Sunshine Ndovu's hopes of qualifying for finals of Maniwa Cup Over 40's cricket tournament suffers setback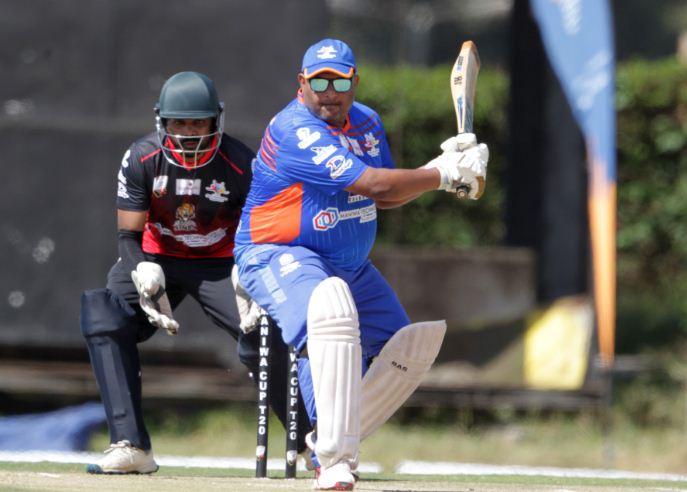 Sunshine Ndovu's hopes of qualifying for finals of Maniwa Cup Over 40's cricket tournament suffers setback
Sunshine Ndovu's hopes of qualifying for the finals of the Maniwa Cup Over 40's cricket tournament suffered a double blow on Saturday when their dependable batsman Naresh Kannabiran was ruled out of the tournament before going down to S & S Acrovent Rhinos at Nairobi Gymkhana.
In another match played at the same venue, Kifaru Chargers were eight wickets victors over Logwin Simba.
Asked to bat, Sunshine were on the driving seat and set to post a decent score before the match was halted after Kannabiran who was on 25 runs off 26 balls was hit on the face with a full toss delivery.
At the time of the incident, Sunshine had posted 36 after six overs.
"The injury was very unfortunate but we thank God it was not that serious. We hope he will be fine and hoping to see him joining us before the end of the tournament," Sunshine skipper Chidambaran Subramanian said as soon as the opening batsman was rushed to hospital for further checkup.
After the match resumed, Sunshine struggled to construct any meaningful stands and were later dismissed for 77 with none of their other batsmen scoring double digits.
Suresh Raman was the chief destroyer for S & S Acrovent side with 4 for 15 off 3 overs.
In reply, S & S Acrovent lost only two wickets to revive their chances of a semifinal slot with 27 balls to play.
Skipper Bhoopal Sreenivasan was the top scorer with 29 runs after putting on an unbeaten third wicket stand of 45 runs with opener Vinoj (27).
In the match played earlier at the same place, Kifaru put one foot into the final with eight wickets win over Logwin.
Chasing a target of 96, Kifaru were home and dry with four to spare thanks to an unbeaten 43 from Ranganath Komanduri and Ginesh Gopinath's 20.
Komanduri had earlier impressed with the bat with 3 for 17.
Santosha Shetty was Logwin's top batsman with 19 off 15 balls.
The event continues Sunday with below 40's action at the same venue.