Maniwa T20: S&S Acrovent Rhinos believe they can win when they clash against Sunshine Ndovu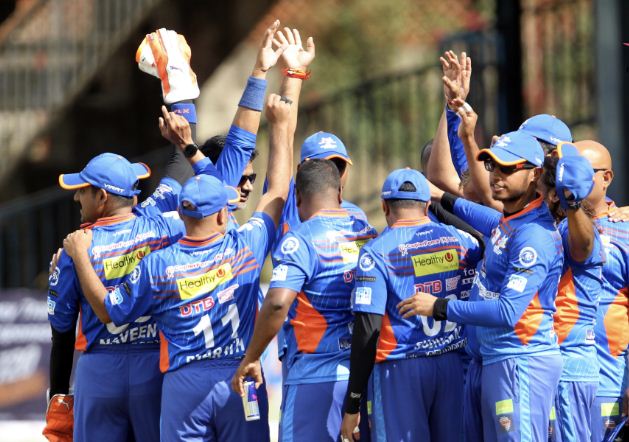 S&S Acrovent Rhinos believe they can bounce back from their opening loss when they clash against Sunshine Ndovu in their must-win Maniwa T20 Cup match at Nairobi Gymkhana, skipper Ram Murugesh has said.
Rhinos, one of the four franchises taking part in the second edition of the event, went down by five wickets to Kifaru Chargers in the opening match of the event last Sunday.
With only the top two teams qualifying for the finals slated for 22nd November, they find themselves needing to win their next match to revive their chances of playing in the final.
Rhinos' opponents will however have little pressure into the match as they were seven-wicket victors against Logwin Simba.
"I definitely think it's a good opportunity for us to bounce back," Murugesh said.
"It's just another game of cricket. Anyone can win. But it's a do-or-die game for us. And we believe that we're going to be successful against Rhinos."
Murugesh boys will be coming up with a strong Rhinos unit that boasts of two NPCA super league top performers.
Krishna Babu and Hiren Varaiya who played a crucial role in leading Stray Lions to NPCA title continued with their good run into the tournament as they led their side to a comfortable opening win.
While Babu top-scored with 40 as Ndovu beat Logwin Simba, Varaiya bagged four wickets. The two will once again be expected to lead from front when they take on wounded Rhinos
"We just want to execute our skills. And once we can do that, then the results can take care of themselves and we're looking forward to moving forward and hopefully we can do much better, Murugesh said.
Elsewhere, Logwin Simba skipper Nitin Arvind has not given up on a comeback as they take on Kifaru Chargers in the other match of the day.
Simba opened their campaign with a crushing seven-wicket loss to Ndovu after having posted a 125 runs.
Arvind said there are some positives for Simba to take away from the opening loss as they take on Kifaru Chargers.
"Despite the loss, we played as a unity and that was a positive thing. Everyone seemed to play for each other and we are looking to continue with that as we play Kifaru," he said.
However he challenged his batsman to stay longer in the middle if they were to offer Kifaru any challenge.
"We need to stay in the middle longer and support each other. Losing wickets in quick succession as we didn't last weekend should not happen," Arvind said.
Kifaru began their campaign with a five wicket win over S&S Acrovent Rhinos.
Kifaru skipper Praveen Kumar will bank on his bowling trio of Lokesh Anand, Vijish Varma and Vinod Kumar to do most of the work for him.
The three bagged three wickets each as they restricted Rhinos to 142 for 8.
"The three had a good start and we hope they will be up to the task once again as we try to get one foot into the final," Kumar who plays for Stray Lions in the NPCA Super league said.