Cricket: Stray Lions attack Ruaraka squad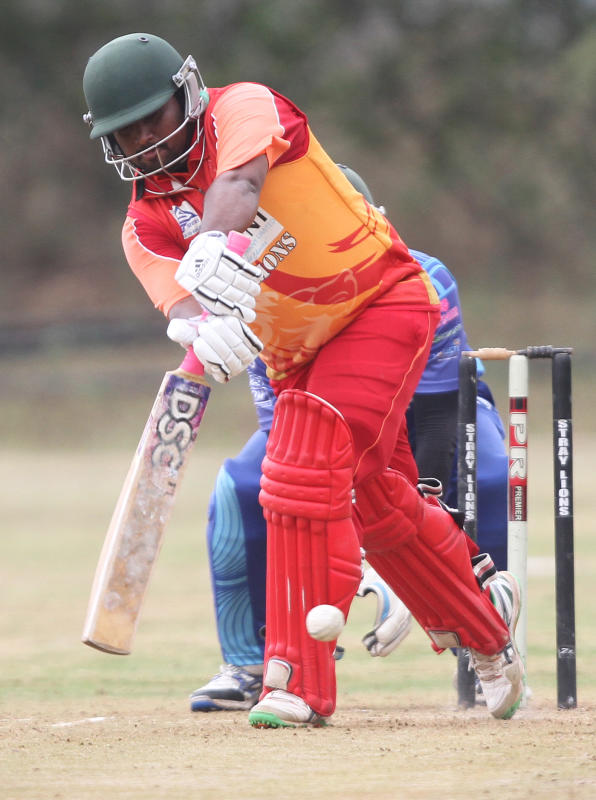 National cricket team captain Shem Obado survived long-enough on his return to Stray Lions to score a match winning century as the 2021-22 Nairobi Provincial Cricket Association (NPCA) league bowled off on Sunday.
Obado, who left the Peponi School based side two years ago to join Kenya Kongonis, scored 108 as the home team beat Ruaraka by 169 runs in one of the four super league matches.
Obado's journey that saw his side post 263 for 8, however, wasn't the smoothest one after being handed four lifelines, three of them being poor fielding by the visitors.
The visitors, whose inning started poorly losing six wickets for 45 runs in 16 overs, derailed the hosts' celebration into the 44th over.
Obado took advantage of the lifelines to tackle Ruaraka bowlers with self-confidence until he fell to Elijah Otieno with an over to play after hitting nine fours and four sixes off 119 balls.
Earlier, Praveen Kumar had given the hosts a good start with a clinical 57 off 84 balls. Former Zimbabwe U19 player Gary Chirumuuta and Joseph Onyango had a good display behind the stump and with the ball in their defense. [Standard Sports]
Chirummuta had five stumping and two catches as Onyango bagged 4 for 12 in his 10 overs. Onyango's scalps included all but one or Ruaraka's top five batters.
At Eastleigh High School, defending champions, Kanbis opened their account on a positive note with a four wicket win over Sikh Union.
Chasing 134, the home team required only 26 overs with the loss of six wickets to seal the victory.
Mikunj Pindolia was the bowling hero for the hosts with 4 for 8 while debutant Emmanuel Bundi bagged 2 for 30.
At Samaj School, Sumit Halai (54) Hiten Vekaria (3 for 29) and Kishore Bhanderi (2 for 10) was enough to hand Cutchi Leva a three wickets win over Sir Ali Muslim Club.
At Nairobi Gymkhana, Ngara Sports Club (201 all out) beat the hosts (110 all out) by 91 runs.