Stray Lions set sights on Kanbis: Lions are hoping to successfully defend their title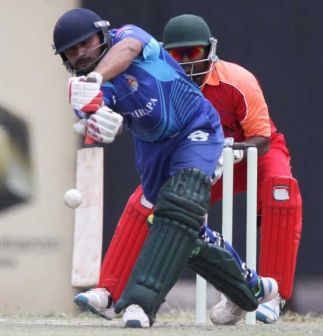 The two sides will renew rivalry in a nail-biting clash.
The chase for this season's Nairobi Provincial Cricket Association (NPCA) Super League title will reach fever pitch tomorrow when front runners Kanbis and Stray Lions square it out at Peponi School Grounds in Ruiru.
The two sides will renew their bitter rivalry as defending champions Stray Lions seek to oust red hot Kanbis from the summit of the standings.
Kanbis will be on a revenge mission against their hosts who beat them by 136 runs last season.
After the hunt for this season's gong shaped into a two-horse race between Kanbis and Lions after last weekend's matches, mother of all battles is expected with the winner of this clash likely to be crowned champions.
Enjoying an unbeaten run and separated by four points, each side will be eying the opponents' downfall. Former holders Kanbis will be seeking to continue with their fine form and firm grip on the top spot as they seek to reclaim the title they lost to Lions last season. They are currently top on the table with 190 points, four more than second-placed Lions.
Lions who are hoping to successfully defend their title will be under pressure to earn points from the clash.
Lions top bowler Shem Ngoche told The Standard Sports that the only way they can succeed in their defence mission is by beating Kanbis.
"It is not an easy match but winning is our only option. Even though Kanbis are in good form, we have to beat them not just in Sunday's match but in the second leg also," Ngoche said.
However, they face an uphill task against Kanbis who have registered impressive results this season.
National team skipper Rakep Patel who has already scored four centuries this season as well as Dhiren Dondaria will be seeking to continue with their superb form with the bat for Kanbis. Lions on the other hand will rely on former national team skipper Collins Obuya, Abraham Vadada, Nikhil Date, Sirla Srinivas and Ngoche to lead them to victory.
In another match, Swamibapa will be seeking to bounce back from their two losses to Kanbis and Lions and a win against newcomers Obuya Academy at Sir Ali Club.
The Swamis whose chase for the title suffered a major blow with a six-wicket loss to Lions last weekend are currently third with 154 points, 36 less than leaders Kanbis.
Obuya, who were promoted the top tier this season are seventh with 73 points. They will build on their suprising 12-run win over Sikh Union last weekend in a quest to overcome Swamibapa.
Fourth on the log Sikh Union will host bottom-placed Cutchi Leva at their Forest Road grounds in a hunt for their sixth victory of the season.
Sikh Union have 122 points while Cutchi Leva have 43 points.