Cricket: Lions beat bitter rivals Swamibapa by six wickets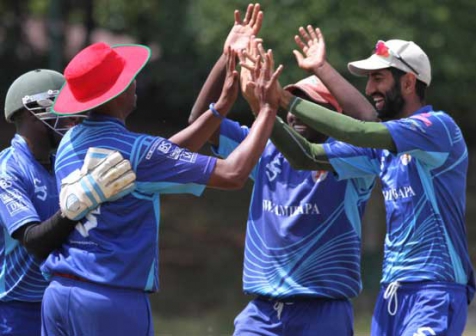 Champions Stray Lions on Sunday beat bitter rivals Swamibapa by six wickets to enhance their Nairobi Provincial Cricket Association Super League title defence in a match played at Jaffreys Oval.
Veteran Collins Obuya starred for Lions with the bat smashing a half ton to see his side end the chase in 21.5 overs.
Obuya's unbeaten 60-ball 67 saw Lions survive an early scare that saw their top order dismissed after 2.1 overs with the board at only one run. Coming in fourth, he stood firm, hitting six boundaries and three sixes anchoring his side to victory.
Lions restricted their hosts to an attainable score of 101 as they bowled them out in 29.3 overs. Sirla Srinivas put up a brilliant show for Lions with the ball taking four wickets for 22 runs. Nehemiah Odhiambo, who decamped to Lions from Swamibapa this season, taunted his former employers, subjecting them to an early collapse with the wickets of openers Alex Obanda (13) and Naman Patel (6).
Irfan Karim was caught behind to Nikhil Date with Shem Obado making it 36 for the loss of 4 wickets with the dismissal of Krishna Babu on four in 7.4 overs. Maurice Ouma and Emmanuel Bundi briefly held up the inning until the 19th over, when Srinivas got Ouma caught behind with the board on 71.
Ouma's fall led to Swamibapa's middle order collapse. Bundi and Saumil Patel were dismissed in quick succession to put their score at 75 for 7.
Mitesh Sangani and James Ngoche fought for close to 10 overs, yielding only 27 runs until when Ngoche was caught behind on nine. [Elizabeth Mburugu]