Obuya, Shem help Stray Lions stay unbeaten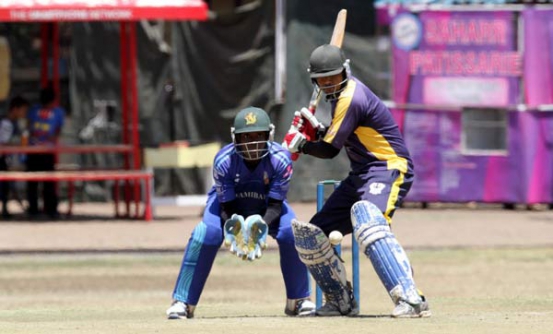 Collins Obuya's quick 80 of 33 and Shem Obado's four for 26 helped Stray Lions slay Sikh Union by 53 runs last weekend during the Nairobi Provincial Cricket Association Twenty20 Super League.
Stray Lions' opening pair of Jay Mehta and Roger Mukasa shared 66 runs and Mukasa took the lead with his third half century of the league, while Mehta contributed 35 in a partnership that was broken when Mehta fell to Ahmed. Collins Obuya set a third wicket partnership of 94 runs with Mukasa as Stray Lions set a target of 194.
Other results for last weekend were: Swamibapa (204 for 5) beat Ruaraka (30 all out) by 174 runs, while Kanbis (99 for 1) beat Nairobi Gymkhana (98 all out) by 9 wickets and Kongonis (108 for 3) beat Cutchi Leva Patel (105 all out) by 7 wickets.
Yesterday, Stray Lions extended their winning streak by beating Ruaraka Sports Club by 8 wickets. Mukasa was impressive for Lions leading them to a fourth successful outing as they maintained a 100 percent unbeaten record.
Lions restricted Ruaraka to 86 in 14.5 overs. In Lions innings, Mukasa scored an unbeaten 40 runs to help the Lions complete the run chase with 68 balls to spare.
At Nairobi Club, defending champions Swamibapa beat Kongonis by 83 runs to register their third win on the trot. Swamibapa scored 164 for the loss of 6 in 20 overs to give Kongonis a tough chasing task and they fell short.
Alex Obanda and Saumil Patel each scored a half ton to help Swamis through. Today, Stray Lions and Swamibapa renew their rivalry at Peponi School in their second weekend ties.
Lions Odumbe told Feverpitch that they expect a stiff battle and they are hoping for positive results because they will give the match their all.
"It will be a very tough match but we expect a good outcome because we will give our all," Odumbe said.