Hit Squad once again failed to make a mark at Olympics
BOXING By Ben Ahenda | December 26th 2021 | 5 min read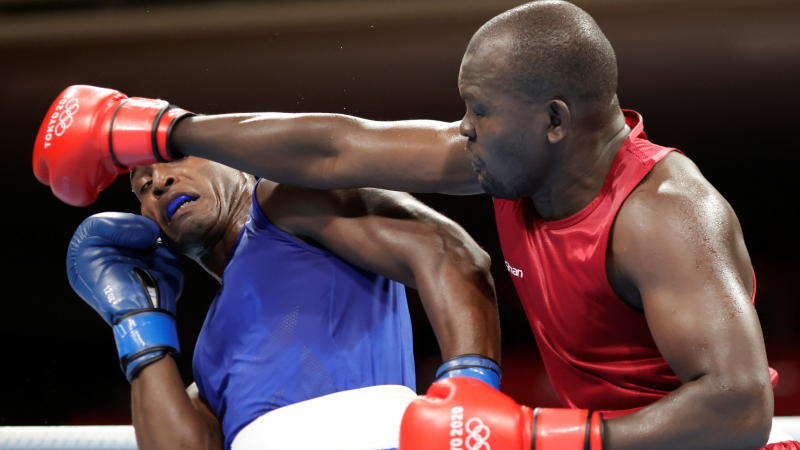 The early exit of Kenyan boxers from the 2020 Tokyo Olympics and World Boxing Championships was a shock to the boxing fraternity as the boxers had adequate preparation running between three to six months.
The preparation included long periods of consistent individual training despite a ban on sporting activities due to Covid-19 disruption.
This however was to later open doors for one key invitational international match that allowed the Boxing Federation of Kenya (BFK) to send a team to Khabarovsk, Russia for the Konstantin Korotkov Memorial International Championships in May.
Later, the national team also better known as Hit Squad took part in the Africa Zone Three Boxing Championships in Kinshasa, Democratic Republic of Congo that prepared players for the Olympics and other global championships.
Boxers won different medals at the DRC championships, but the most notable victory was the one of Olympian Elly Ajowi, who defeated African super heavyweight champion Maxime Yegnon of Cameroon to win a gold medal.
2021 was however a year which was full of promise, but ended in disappointment.
The poor show by Kenyan boxers at the Olympics and World Boxing Championships led to many questions posed by pundits.
They questioned if selection of players was done on merit, whether boxers were improving with every international assignments or they were facing more experienced opponents or whether Kenya had the right boxing managers to lead the federation in the right direction.
Kenya sent four boxers to the Tokyo Olympics and a full team of 13 boxers for the global championships in Belgrade, Serbia, from October 25 to November 6.
Those who featured at the Olympics were the 2015 Africa Boxing Championships lightweight gold medalist Nick Okoth, Africa Zone Three super heavyweight champion Elly Ajowi, Commonwealth Games flyweight gold medalist Christine Ongare and national welterweight champion Elizabeth Akinyi.
At the Olympics, all the four boxers got a rude shock as they were eliminated in the first round.
Kenyans expected the team to replicate the performance of the Hit Squad in the 1988 Seoul Olympics that came with the first Olympic gold medal by any African country as welterweight boxer Robert Wangila Napunyi made Kenya and Africa proud.
It was the same thing at the global championships in Belgrade as all 13 Kenyan boxers never reached the medal bracket.
The 1978 World Boxing Championships in Belgrade, Yugoslavia remains the most successful outing for the national team when flyweight boxer Steve Muchoki became the first African to win a gold medal.
Muchoki said most Kenyan boxers had been knocked out of the tournament due to biased officiating and the best example was flyweight pugilist David Karanja and light middleweight Boniface Mogunde.
"These two boxers did their best and their efforts were frustrated by biased referees and judges who played some mind games with them.
"Losing is part of the game but one should lose fairly without external influence," Muchoki told Standard Sports.
He said he was a victim of biased officiating at the WBC championships in Havana, Cuba in 1974 when he was robbed of an open victory against homeboy Jorge Hernandez whom four years later he (Muchoki) defeated in Belgrade, (then Yugoslavia) to win the first African gold medal at the global championships.
"Things could have been worse this time round with the introduction of monetary awards to medal winners," Muchoki warned.
Gold medalists pocketed 100,000 USD (Sh11 million), silver medalists 50,000 USD (Sh5.5 million) and bronze medalists 25,000 USD (Sh2.7 million).
The Kenyan boxers who fought at the global event in Serbia said they lost to better opponents.
"No boxer came here to lose. We all came to win but it was stiff competition and no one should be condemned for losing matches," said featherweight Martin Oduor who lost to Nkosi Lutaka of DRC.
"We learned our lessons and the experience gained will take us to the next level," said Oduor who is a member of league champions Kenya Police.
Africa Zone Three Boxing Championships super heavyweight gold medalist Elly Ajowi admitted he lost to a better boxer (against Tajikistan's Jakhon Qurbonov).
"Yes, I lost to an experienced opponent, but it was a lesson for the next international championships," said Ajowi who is keen to be selected in the squads that will take part in Africa Boxing Championships in January 2022 and Commonwealth Games in Birmingham, England on July 2022.
Head coach Musa Benjamin said the federation had just started the process to revitalise the standards saying it will take time before we get back to the previous level where Kenya was a global boxing powerhouse to the class of world champions Cuba and the United States of America in the seventies and eighties. "We are determined to get there but we must be given time to do so after the election of the new office bearers," he said.
The new office under BFK President Anthony 'Jamal' Ombok has introduced 'Ndondi Mashinani' at the counties that has allowed grassroot coaches to scout for potential talents and mould them to the national level.
"This is a process that must allow us some good time to do our work and ensure we deliver what we promised the boxing fraternity during the campaign period," Ombok said.
On a positive note though for boxing in 2021, Boxing Federation of Kenya Communications Director Duncan Kuria was recognised by President Uhuru Kenyatta for his tireless and industriousness towards boxing activities.
Kuria received the Head of State Commendation from Murang'a County Commissioner Fred Dunga.
The federation also organised two 'End of the Year' tournaments – the first and second legs of Jamal Cup Championships that were used to select three squads that will take part in three championships next year.
The three tournaments are Africa Boxing Championships in January 2022 to be held a venue to be named by the Confederation of African Boxing(CAB) later, World Women Boxing Championships in Istanbul Turkey in March 2022 and Commonwealth Games in Birmingham, England in July 2022.
This was after the federation failed to host the National Boxing League due to time constraints after the Coronavirus pandemic.