Sarah Achieng' ready for battle against Germany's Kerwat
BOXING By Ben Ahenda | April 15th 2022 | 2 min read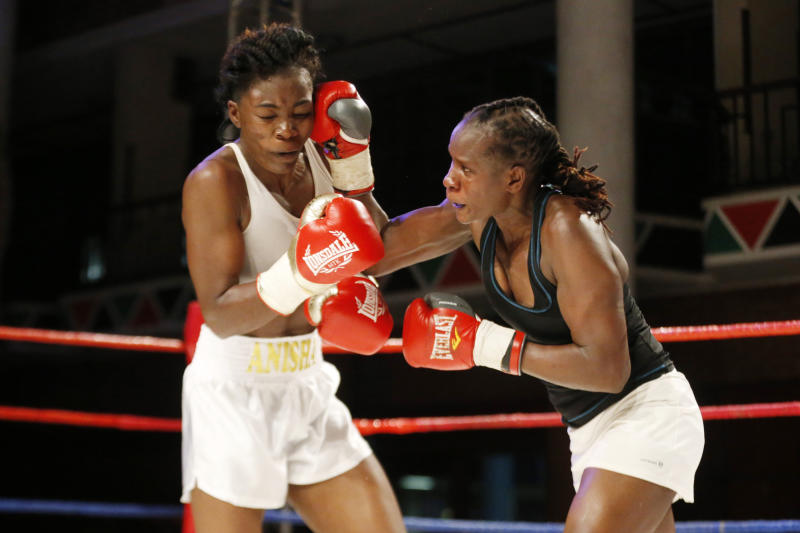 Commonwealth super lightweight champion Sarah Achieng' is set to fight Tunisian-born German Ikram Kerwat for the Women International Boxing Federation (WIBF) super lightweight (63.5kg) title in Cleveland, Ohio on June 11.
Achieng' said the match had come at the right time when she was ready for big fights.
"This has just come at the right time when I'm physically fit and ready for big things only coming a few months after I had won my last title," Achieng' told Standard Sports.
The Kenyan who holds four titles said she was willing to face new challenges and therefore the fight in the US had come at a time she needed to sail into the deep waters.
"Going for such fights could prove my depth in the same weight category in the global title fights in my challenge to fight for top honours," said Achieng' who is also the East and Central Africa featherweight (57kg) champion.
Besides being the professional national lightweight champion, Achieng' is also the Universal Boxing Organisation super lightweight champion.
Yesterday, she said time left between now and the day of the title fight was enough to train for the epic battle and called for prayers from her fans.
"As I prepare for the fight, I just need your prayers to enable me bring the title back home," said the female boxer who defeated Anisha Basheel of Malawi on October 20, 2021 in a 10 round fight in Nairobi.
After winning that title last year, Achieng' hinted at going for a global title from any of the four prestigious world professional boxing bodies in World Boxing Council, World Boxing Federation, World Boxing Association and International Boxing Federation. She had said she was ready to equal the record of former World Boxing Council super-bantamweight champion Fatuma Zarika and be ranked once again as among top African professional boxing nations.
Achieng's coach Alfred 'The Priest' Analo confirmed the new development.
"We are all set for this big fight, I appeal for sponsors to support us in Sarah's training expenses. We need a nutritionist and train in a well-equipped gym for strength and conditioning," said Analo.
Achieng' has had 16 professional fights with seven knockouts, seven wins on points and two loses.
On her part, the 38-year-old Kerwat has a record of 19 fights with 11 wins on points with five knockouts and three loses (11-3, 5 KOs).
Her last fight was against Tanzania's Happy Daudi last month.