After tasting blood, 'King' George now goes for the kill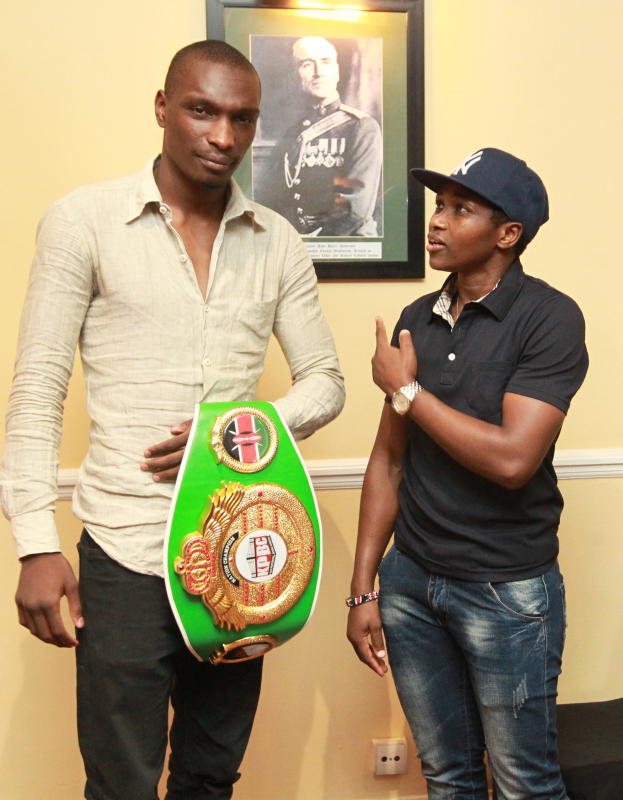 To 24-year-old George 'King' Onyango, there's no stopping.
Basking in the glory of defending his national Light welterweight title in Nairobi on Saturday night, Onyango is a man on a mission.
The thrilling victory rematch against his rival Fred 'Nekes' Nyakesha has inspired Onyango to go for a much bigger title in the sport.
"If I get an opportunity to defend this belt for the second time, I won't hesitate. But now, I want a continental glory. My focus is on the African Boxing Union (ABU) belt," Onyango told Standard Sports.
"When I'm done with ABU, I will head for the Commonwealth title, but I'll be happy with whichever comes first.
"When I'm done with ABU and Commonwealth, I'll start dreaming of the global belts like the World Boxing Council," he said.
The Muthurwa-born pugilist, who was raised in Umoja, says he's opted for the African belts to give his career a new challenge and dimension.
"You can't stay in the same position for the rest of your life. I have been a national champion in my category since 2018; how do I grow from here? I have to look for new challenges. That's what I believe will build me," he said.
Concerning his last weekend's victory, Onyango said his duel with Nyakesha was one of the best fights in his career.
"He was a tough opponent. He gave me a hard time in the ring," he admitted.
"We both gave our best shots. I'm glad I displayed my talent. Our fans left the ring a happy lot. I was happy with the deserved win," he said.
Even though he's still lobbying for the African titles, Onyango has already resumed training at his base at the newly refurbished Umoja Boxing Club where his talent was spotted by former women's boxing sensation Conjestina 'Hands of Stone 'Achieng.
"Conje was our neighbour in Umoja. She's the one who inspired me to go full blast in boxing after High school," Onyango recalled.
In the boxing cycles, Onyango is commonly referred to us 'King Georges' or the "Pretty boy" for his flawless face.
The lanky hard-puncher trains under head coach Jeff Magina who believes every fight is war that needs proper planning and execution.
"Whenever we have a fight, I train him like an animal. This reptilian mindset is what has made us champions," says Magina.
Impressed with Onyango's display at the weekend, Kenya Professional Boxing Commission President Reuben Ndolo believes the pugilist has a lot of potential.
"The showpiece is just the beginning," Ndolo said.