Thriller in Nairobi: 'King' George defends title in a high-octane entertainment battle never seen before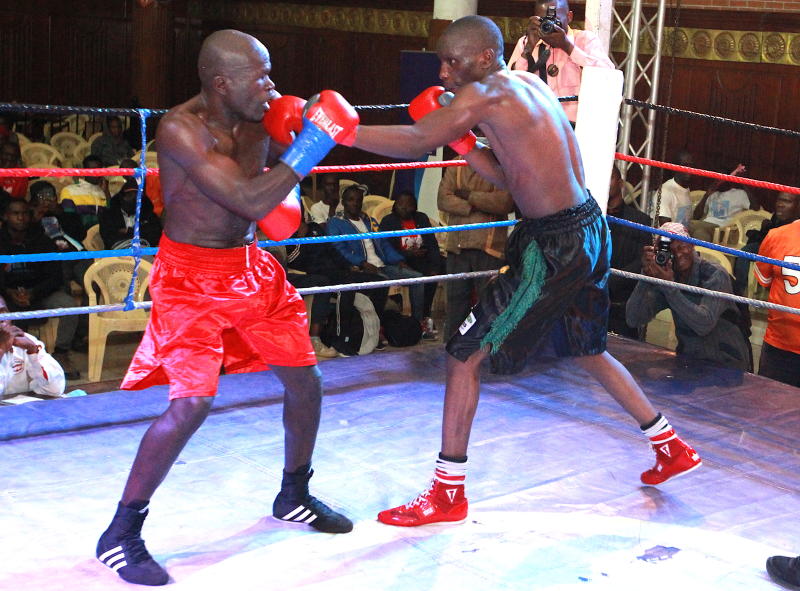 As the rains were heavily pounding Kenya's capital city Nairobi on Saturday night, one important activity was ongoing at the County's Charter Hall where boxing lovers had gathered to watch a bout after a long spell from the sport brought about by the Covid-19 pandemic.
Inside the marbled and gigantic hall, at the centre, stood a blue, red and white coloured ring where two ferocious fighters were baying for each other's blood.
You could tell the dog-fight was living up to its billing by the way the spectators had left their seats to jam the ringside to motivate their favourites for victory.
The do or die grudge match for both parties was promoted by Big Time Boxing Promotions and sanctioned by the Kenya Professionals Boxing Commission (KPBC).
George 'King' Onyango, 24, was the defender of the gold plated Light Welterweight belt which was being guarded by a bevvy of beauties in a nearby table.
The Muthurwa born pugilist who was brought up in Umoja had thronged the venue with his supporters from both estates to motivate him in his title defence.
He won the belt in 2018 against the same opponent.
Onyango stood out in the ring with his imposing height and near fatal uppercuts that his challenger, Fred 'Nekes' Nyakesha, a 40-year-old father of two ducked by a whisker.
Nyakesha was short of height but his spirit animal was untamed in this fight.
He had earlier resolved to take the game to the wire, a resolution he was truly living up to in this dead and chilly night.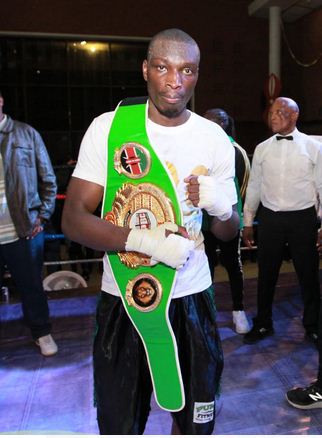 He rammed into Onyango like a thud of brick, and his legion of fans from the sprawling Kariobangi slums loved this.
"Chinja, ua.Maliza game twende home (Cut him to pieces !Kill him! Clear the job early so we head home)," Nyakesha's fans chanted madly whenever their home boy got a chance to land a jab on their enemy.
The first round of the ten-round duel was an equal affair. Each jab was replied in equal measure by the parties.
Nyakesha was aggressive but terribly failed to guard his mouth and temple, giving Onyango the lee-way to land his dangerous punches. This was later to cost him the fight.
The real drama started in round two when Onyango got 'drunk' by Nyakesha's thunderbolt punch on his protruding forehead.
The house exploded! Nobody remained on their seats, including yours truly.
The Kariobangi brigade ran to the ringside to urge their homeboy to go for the kill.
Overwhelmed and leaning on the ropes, Onyango hugged and tagged his opponent to buy time. He was now feverishly waiting for the bell to save him from the jaws of Nyakesha who was now punching him with glee.
Talk of the grand comeback! Onyango unleashed tirades of uppercuts and hooks in the third round.
This resurrected his silent followers who had become dormant in the dome.
He successfully defended well from the dangerous stings sent by Nyakesha who was hungry for victory.
The soft spoken, lanky pugilist transformed himself into a beast in the next round.
He gave Nyakesha no space to hide. He left no stone unturned.
Onyango used all means possible to halt his opponent's tactics including unconventional jabs that saw the centre-referee, Wycliffe Marende docked him points after he hit Nyakesha on the back of his head using the back of his hand near the elbow.
This was a very heavy round for both sides as in the end, Onyango who had a rapture on his mouth was bleeding while Nyakesha was now swollen on the right eye and bleeding on the nose.
The crowd jumped into a frenzy in the sixth round when Nyakesha's hard left punch send Onyango sprawled on the floor.
But his feat was short-lived as Onyango stood up and landed quick jabs on his nose accelerating their bleeding promoting Marende to briefly stop the bout for Nyakesha to be attended to by his team.
The fight was again stopped a half way in the seventh round for Nyakesha to be attended to following his continued bleeding.
The bleeding seemed to have destabilized Nyakesha who on return to the ring, was sent kissing the canvas by Onyango's stunning left hook.
Thinking the fight was over, Onyango lay prostrate on the floor, joined in celebration by fans.
Just like the proverbial phoenix, Nyakesha rose from his ashes and declared 'Game On'.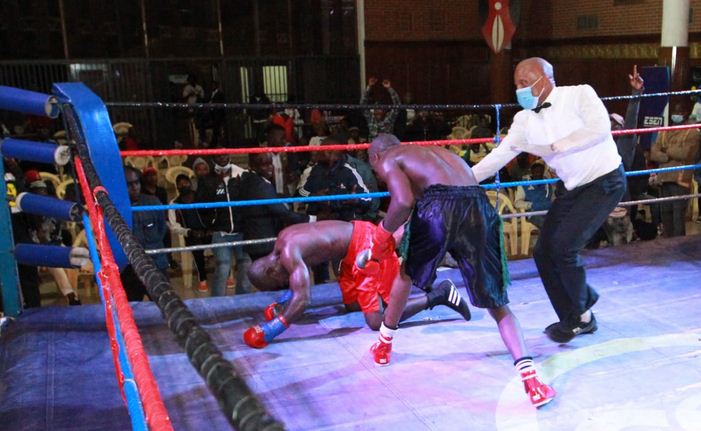 Onyango was perplexed as they headed for the eighth round.
Both sides had no tact in round eight, and it seemed everyone was looking for a TKO with their forced heavy punches and non succeeded.
Nyakesha was send to the canvas for the second time in the ninth round and this literally gave Onyango credibility in his title defence.
Boom! Another confirmation. No one saw it. Third fall for Nyakesha in the tenth and final round. It was in a blink of an eye.No one saw the right jab coming. Nyakesha laid sprawled on the floor. He struggled and rose.He seemed to be saying: "Even if I'm being defeated today but not on a TKO please."
He rose and continued with the fight right way to the bell.
Eventually, 'King' George broke into song and dance with his fans as he celebrated his 94-92,97-92,96-92 victory that handed him the belt for the second time.
"He was a worthy opponent, he proved himself as a man. He was a piece of work to deal with in the ring," Onyango told Standard Sports.
Nyakesha said: " I agree I lost, but I lost honorably. I'm happy I made my fans proud. I gave them the entertainment which they needed."
KPBC President Reuben Ndolo said the thrilling showpiece was just the tip of the iceberg of the kind of championships that have been lined up for boxing lovers by the federation.
"We are grateful that sponsors are coming on board to be part of boxing. Fans should expect another thrilling showpiece on December 26," Ndolo said.
Big Time Boxing Promotions results
Title fight
Light welterweight 10 rounds: George 'King' Onyango won 94-92,97-92,96-92 against Fred 'Nekes' Nyakesha.
Undercards ( Non-Titles)
1.Middleweight 6 rounds: Denzel Onyango won 60-54, 59-55, 60-54 against Kennedy Omondi.
2.Super Bantamweight 6 rounds: Albert Kinario won 58-57,60-54,58-56 against Calvin Okello.
3.Super Bantamweight 6 rounds, women: Nicoline Achieng won on TKO first round against Mary Masinde.