Boxing: Achieng' eyes TKO against Chisale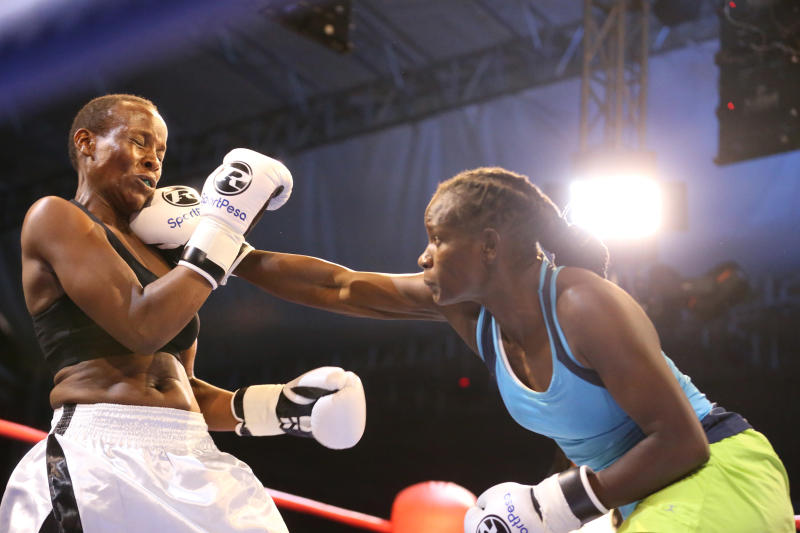 Mark the date. Be punctual for the bout. After weeks or waiting and preparations, it's finally here; the Universal Boxing Organisation super lightweight bout.
Current champion Sarah Achieng' will face Ruth Chisale of Malawi.
In truth, there will be little room for error.
It will be a tough fight, quite difficult to predict because both boxers have never met in any competitive match.
The two pugilists are experienced and will be out to outdo each other as they seek to win the super lightweight Commonwealth title that could open doors for more recognised global fights.
Yesterday, Achieng' was doing her final touches under the tutelage of Alfred 'Priest' Analo, who has seen the boxer through several fights.
The match can go either way really, given the experience of both boxers, but Achieng' is confident of retaining the title. She said she'll not let her her fans down.
"Yes, it will be tough, but I'm determined to ensure the title remains at home since I'm not ready to let down the people who have always supported me in the course of my battles," she told Standard Sports.
"For now, my main interest is to win the match and focus on more titles and fights that could come my way," Achieng' said.
"I hope to remain in top shape ahead of the bout and make my fans happy."
Achieng's last fight was in November 2018, where she defeated her compatriot compatriot Julia Awino in a non-title fight. Achieng' won on unanimous points' decision.
On paper, Achieng' starts a favourite, owing to her record in the past matches.
Achieng boasts 13 wins and two losses from 15 matches, while Chisale has a record of 11 fights with 10 victories and one loss.
Chisale had not arrived by yesterday evening as was earlier expected, but Kenya Professional Boxing Commission President Reuben Ndolo said she is expected this morning.
"She (Chisale) is expected this morning. Her flight must have delayed because she was connecting from South Africa to Nairobi," said the KPBC boss.
In her last fight on December 30, 2017, Chisale lost to her compatriot Lolite Muzeya on unanimous points decision in Lilongwe, Malawi. She had earlier won two other professional fights at home
Chisale defeated Kholosa Ndobeyini through a knock-out before triumphing against Ornella Domini on unanimous points decision.
Yesterday, Ndolo said the bout will continue as earlier planned, with weighings and medical check-ups expected tomorrow morning.
There will be six curtain raiser matches pitting boxers from Kenya against Ugandans and Tanzania ahead of the main match.