Can Achieng's smile help her in the boxing ring against Chisale?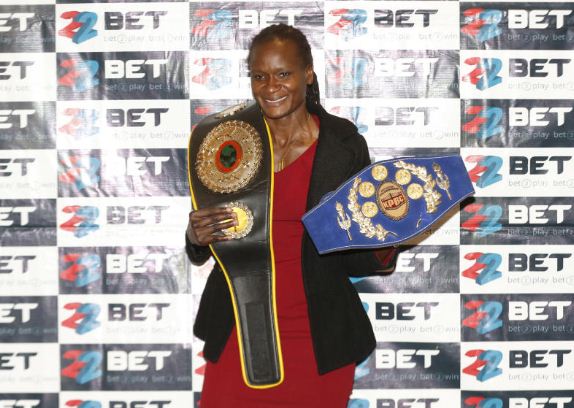 As Universal Boxing Organisation super lightweight champion Sarah Achieng' prepares to take on Ruth Chisale of Malawi in a Commonwealth title fight at Charter Hall in Nairobi on Saturday, she is a disappointed boxer.
She said the delay in fixing a date for the bout had dented her efforts of winning that title.
Achieng' said postponement of the fight several times had become an impediment to her quest of winning the title as well as focusing on other continental and world titles.
"When a fight is postponed, officials hardly put into consideration dynamics, logistics and morale of parties concerned. A player is affected negatively when all these happens," Achieng' told Standard Sports.
The bout was postponed due to Covid-19 pandemic. The fight was to be held on September 25, but pushed to this Saturday, at Charter Hall.
Achieng boasts 13 wins and two losses from 15 bouts, while Chisale, who is a soldier with the Malawian Defence Forces (MDF), has a record of 11 fights with 10 victories and one loss.
Chisale is expected to arrive in Nairobi tomorrow.
Despite being faced with road blocks, the tough-speaking boxer said her eyes are firmly focused on the ball as she chases top honours.
"Despite the ups and downs that have faced the battle, Chisale will see fire. I'm determined to ensure the title remains at home and the match will not last long," said Achieng'.
Achieng' said she had suffered psychologically for the last eight weeks.
"The uncertainty surrounding this fight affected my training schedule for the last two and half months. It is a great lesson to me," she said.
"Had I fought Chisale as earlier planned, chances are high that it could have opened doors for big fights, possibly before the end of the year," she said.
However, Achieng' who admitted not having met the Malawian before, was confident she would overcome Chisale on her way to winning the Commonwealth title that could possibly open doors for bigger fights.
"Although I have never met her (Chisale) in my professional career, I believe I have what it takes to defeat her," she said.
Asked if she has watched any clips of her opponent ahead of the epic match, Achieng' said; "I have not and I don't need to watch them since that is the work of my tactician."
"In doing so, it will give me unnecessary pressure, which can be avoided," she said.
"My coach has all the time for that work and mine is to follow his instructions during my training sessions and in the ring," she said.
Besides the main match, there will be six curtain-raiser matches on card the same day.