Achieng vows to take the fight to Malawian in September 8 bout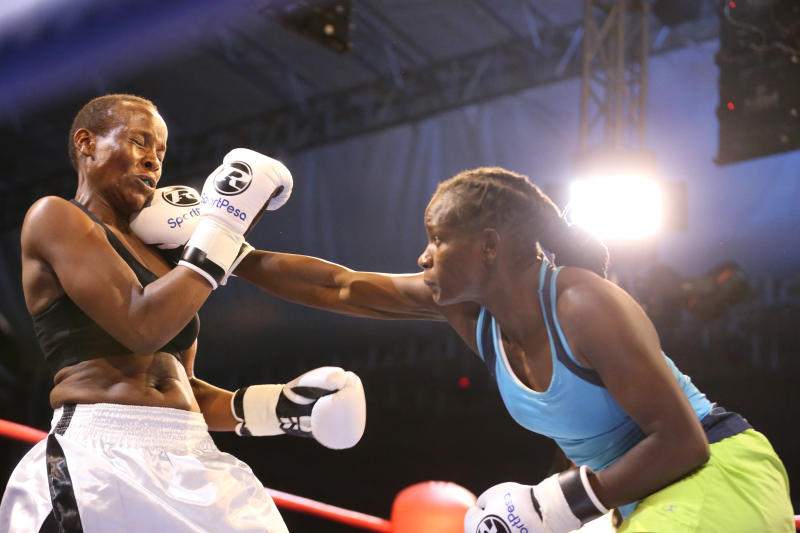 Universal Boxing Organisation (UBO) Intercontinental female lightweight champion Sarah Achieng' will face Ruth Chisale of Malawi in a Commonwealth lightweight title clash at Nyayo Stadium, on September 25.
Since having her last non title professional-fight in South Africa on December 7, 2018 against home-girl Heddah Wolmoranns, Achieng' said she is ready for action.
Achieng' won the fight hosted at Carnival City Casino in Brakpan (South Africa) on unanimous points decision.
"When it comes to fights, I don't joke and that's the reason why I overcame my opponent. We mean business and that is how I'm going to tackle Chisane; The title needs to remain here," Achieng' told Standard Sports.
Achieng, who boasts 13 wins and two losses, starts as favourite against the Malawian, who is equally respected in the Africa professional boxing circles.
According to Kenya Professional Boxing Commission (KPBC) assistant secretary general Julius Odhiambo, this promises to be a tough bout because both boxers are strong and experienced.
"It'll be tough and difficult to predict its outcome since both players are experienced. The match might go to the wire," Odhiambo said even as former KPBC chairman Hillary Alila wished Achieng' well in the match.
"We must learn to encourage and motivate our boxers towards crucial title fights like this. Morale boosting gives a player and the technical bench courage to face the opponent," said Alila. Chisale, who is a soldier with the Malawian Defence Forces (MDF), boasts a record of 11 fights with 10 victories and one loss. Achieng, who has been training under the tutelage of Alfred 'Priest' Analo for the last eight weeks, said she is working on her speed, defence and footwork in readiness for the epic bout.
"The title is mine to lose but I must step up my speed as the coach works on improving my defence and footwork techniques. I'm not ready to disappoint my fans and supporters at home," she said.
KPBC President Reuben Ndolo said the fight is among a series of international professional matches lined up by the federation this season.
"This is among the many fights we have lined up for our boxers this season ahead of some crucial international bouts set for Nairobi," Ndolo, a former heavyweight professional pugilist, said.
Besides the Achieng versus Chisale fight, there will be six more non-title bouts involving Kenyan boxers Uganda and Tanzanians.
In the first bout, George Onyango will take on Adam Ngange of Tanzania in a super light welterweight.