Okwiri readies for a non title fight against Columbia's Munoz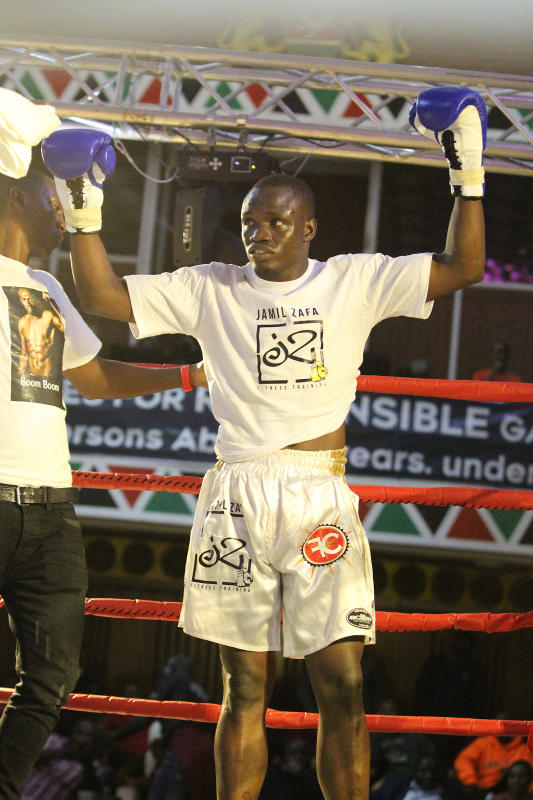 Africa Boxing Union middleweight champion Rayton Okwiri will fight against Columbia's Fidel Monterrosa Munoz tomorrow.
The eight-round non title fight will take place in Portland, Maine, USA.
Okwiri, who has never been beaten since he joined the paid ranks and boasts a record six wins and a draw from his seven professional fights, is not bothered with the record of the 33-year-old Columbian that stands at 39 wins, 25 loses and a draw from his 65 fights. And he has vowed to beat him.
"I am not bothered by Munoz's record and he will not last the eight rounds because I am in good shape," he said.
Okwiri, who left Kenya for the US in May, has undergone intensive training in Boston. He will also take part in a series of fights lined up for him and East Africa by promoter Michael Reyes of Reyes Boxing International.
Before heading to the US, he first went to Cancun in Mexico for intensive physical conditioning training with Namibia's Walter Kautondokwa before going to Boston for a sparring camp.
Okwiri said he prefers training abroad because of the tough sparring partners unlike in East Africa where he lacks serious competition.
"In the US, things are different as we have serious sparring opponents unlike in Kenya and East Africa where they are not competitive," said Okwiri, who reached the quarterfinals of 2016 Rio Olympics.
One of his sparring partners in the US is World Boxing Organisation (WBO) middleweight champion Demetrius Andrade, who in April defeated Britain's Liam Williams on a unanimous points decision to retain the WBO middleweight title in Florida, USA.
Andrade, who is unbeaten in 30 fights, is keen to take on the division's other champions.