When boxing blood flows in the family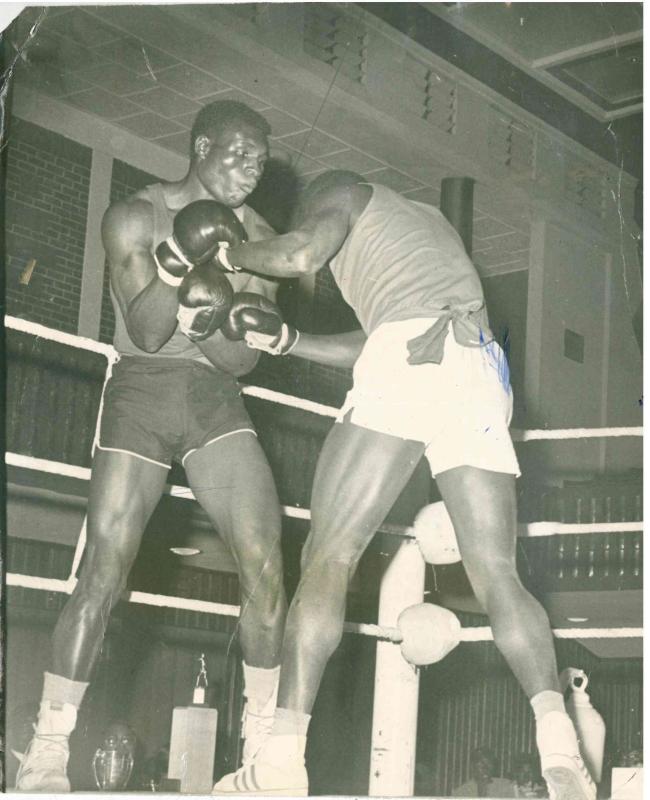 In honour of my father Sabat- lets fists do the talking
Maganga fitted into his father's gloves and aims to surpass his achievements in the ring.
Four-time East and Central Africa boxing heavyweight champion Fred Sabat may have died, but his name in the ring will still cling on through his son Maganga Sabat.
The 71-year-old Sabat, who reigned supreme in the 1970s, died on April 8 due to liver infection, according to family sources and will be buried this weekend in Emuli Ebutuku village, Vihiga County.
Maganga, third born in a family of three boys and one girl, has stepped into his father's boots and aims to surpass his achievements in boxing.
"I want to shift from light-heavy to heavyweight and do better than my dad, he really inspired me," said the 28-year-old Kenya Defence Forces boxer, who made his senior international debut last month in Zone 3 championships in Kinshasa. He won a bronze medal.
Maganga is, however, faced with several obstacles as he seeks to achieve his dream of becoming a world champion.
"What we are lacking now is modern training equipment and constant exposure," he said.
Take a quick survey and help us improve our website
Take a survey
"We're mostly fighting from home and this does little to improve our standards. For a boxer to improve he must be exposed regularly to big international competitions."
"We're satisfied with the current BFK office and the coaches are doing a good job unlike with previous tacticians, who seemed to be doing guesswork. Our head coach Musa Benjamin and the technical team know what coaching is all about.''
Maganga, who started boxing in 2003 at Kabiro Boxing Club in Kawangware on the outskirts of Nairobi's Central Business District, made his international debut in the 2010 World Youth Championships.
Whether Maganga will manage to emulate his late dad, Fred Sabat, remains to be seen.
Sabat had his own fair share of success in the noble art of boxing at a time when Kenya was experiencing a dearth of good heavyweights. The previous successful natural heavyweight was Mombasa-based Christian Opiyo, a silver medallist at the inaugural Africa championships in 1962 in Cairo, Egypt.
Sabat's rise began in 1969 when he won the national novices championsips at Pumwani Social Hall in the sprawling Majengo slums by outpointing Chris Munyimbo of Kenya Prisons.
Among others in the tournament, who later rose to fame, was 15-year-old Isaac Maina, voted the best boxer for his sterling show against Joseph Njoroge of Starehe.
Boxing for Police, Sabat met Munyimbo again in the inaugural Inter-Services championships, knocking out the Prisons boxer in the first round.
The big breakthrough for the ambitious Sabat finally came in the monthly Kenya Amateur Boxing Association (KABA) tournament held at the BAT Hall in Shauri Moyo in 1969.
Pitted against Swiss-born Kenya Breweries employee, Rupy Hess, Sabat clinched a place in the national team by stopping Hess in the first round.
The towering burly Sabat remained unbeaten for almost two years until he finally met his match in Uganda's Ben Masanda towards the end of 1969 in the first leg of the Millington Drake Trophy in Nairobi.
The following year, Sabat's hopes of representing Kenya in the Commonwealth Games went up in smoke after he was knocked out in a catchweight bout.
Again Kenya was not represented in the heavyweight division at the 1972 Olympic Games.
During the trials at Pumwani Social Hall, Sabat lost to newcomer Zacky Amalemba from Kisumu.
Sabat's most successful period in the national team was between 1973 to 1976 when he won the East and Central Africa heavyweight crown four times.
It all started in Addis Ababa, Ethiopia but before the regional tournament, Sabat made his intention known by becoming the first Kenyan to defeat a Ugandan heavyweight at home in the Millington Drake Trophy tournament..
He stopped Ochan in the second round after subjecting the Ugandan to two mandatory counts of eight.
He met Ochan again in Addis Ababa, knocking down the Ugandan twice on his way to a points victory.
Sabat's win enabled Kenya dethrone rivals Uganda by collecting five gold, four silver and one bronze medal. In addition to Sabat, other gold medallists were George Findo who beat Leo Rwabogo in the flyweight division, George Oduori, John Nderu and David Attan.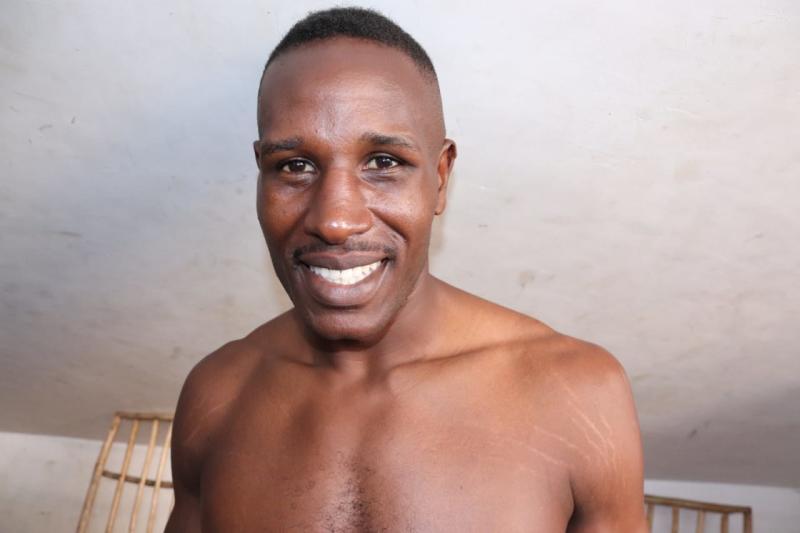 Sabat maintained his sparkling form by retaining his regional heavyweight title in 1974 in Dar es Salaam, 1975 in Lusaka and 1976 in Nairobi.
Some top former international boxers interviewed by the Standard have described Sabat as a gentleman in and out of the ring.
Steve Muchoki, the only Kenyan boxer so far to have won a world title in 1978, describes Sabat as a "cool guy".
"In the ring Sabat was a clean boxer, he did not fancy in-fighting but preferred jabbing from a distance and finishing with his right punch, and he was also fast," says Muchoki.
The same sentiments are echoed by Muchoki's brother in-law and 1979 Africa light-welterweight champion Ali "Ojukwu" Athumani currently based in Dallas in the United States.
"I've all along known Sabat as a quiet reserved person. He started as a body builder and at one time was named Mr Nairobi, that's the reason he had a muscular body. Otherwise he's one of the best heavyweight we've had. May Allah rest his soul in eternal peace."
Ibrahim Bilali, the 1982 Boxer and Sportsman of the Year and 1984 Los Angeles Olympics flyweight bronze medallist is happy to have been in the same camp with Sabat in his international debut in 1981 against Uganda at the Jamhuri Park Showground.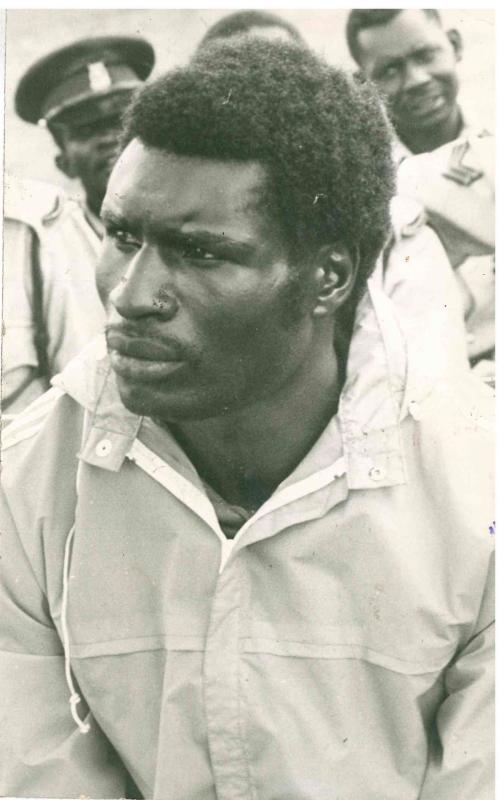 "He was such a gentleman. He told me he was impressed by my potential and told me I'll go far in boxing. He liked sparring with boxers of the lower weight divisions to increase on his speed. He was mostly in the company of his best friend in the camp George Findo. They told now that I'm in the camp, that would be their last time to box for Kenya to pave way for youngsters like me."
Nakuru-based Findo aka Mosquito agrees with what Bilali says.
"Sabat and I decided that would be our last match for Kenya if boxers we saw grow up like Bilali are in the same camp with us. We didn't box for Kenya again after 1981. Sabat was such a quiet boxer, not as vocal as some heavyweights. He liked sparring me and George Oduori. He used his jab to deceive you before landing his hard right punch. He was very strong."
While Sabat won his heavyweight fight, Findo was robbed of victory against Uganda's Godffrey Nyeko in their featherweight battle.
Sabat had made a comeback to boxing after being out for more than two years..In the trials to select Kenya's team for the Urafiki Cup match against Uganda, Sabat defeated James "Demosh" Omondi.
On his return to local boxing in1981, Sabat represented Prisons, and against Police, he pounded Eliud Wangila, forcing his seconders to throw in the towel. Police edged Prisons 6-5 bouts.
Sabat also denied he boxed as a pro in the US but Boxrec records show he fought bare-chested twice in 1975 and 1980 winning one fight and losing the other.