Captain Okoth become first boxer to cruise to victory in Kinshasa Championships as Africa prepares for the World Olympic Qualifiers in Paris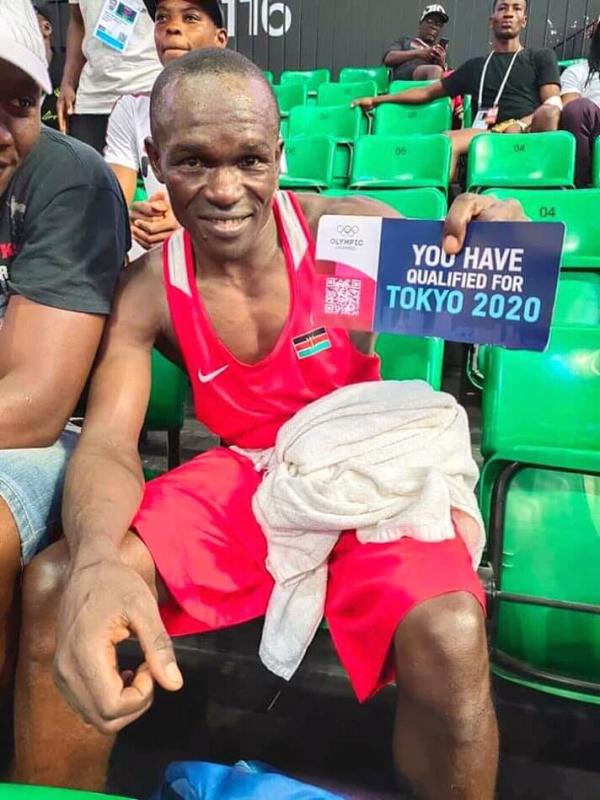 Female boxers exuded confidence ahead of their matches
The 2015 Africa Boxing Championships lightweight gold medalist Nick Okoth led four Kenyan boxers to win their bouts sounding a stern warning of their intention to win the title as Africa Zone Three Boxing Championships boxed-off in Kinshasa, Democratic Republic of Congo on Monday night.
'Commander' Okoth as he is fondly known by his fans and teammates beat compatriot Martin Oduor in the featherweight (57kg) in the first bout of the round-robin matches.
This time round, medal winners will be picked on points from the number of bouts won and lost in the round robin series in the six day competition as opposed to the knockout phenomenon in such previous assignments.
"The match against Oduor was only a warm up bout. I was not expecting it that way but the draw fixed us. For now, what matters is the next match and it will really be a tough fight and I will give it my all best to Olympics," Okoth said in a postmatch interview.
Okoth was the first pugilist to have qualified for the 2020 Tokyo Olympics during the Africa Olympic Qualifiers in Dakar, Senegal last year.
He was set to take on Kitangila Wa Kitangika of Democratic Republic of Congo in the second bout of the featherweight bout.
Other Kenyans who won their bouts were flyweight Shaffi Bakari (52kg), lightweight Joseph Shigali (63kg) and welterweight Boniface Mogunde, all won on unanimous points decision.
Like Okoth (Nick), Bakari also defeated compatriot David Karanja as Shigali dismissed Z. Pembe of Mauritius as Mogunde overcame Ngan Jean Onana of Cameroon.
In the lightweight, Kenya's Victor Odhiambo lost his opening bout against Alay Christian Sangue of Cameroon on a unanimous points decision.
On Tuesday, Bakari was set to face Nibomu Moussa of Burundi in the second bout.
Deputy captain Elizabeth Andiego said morale was high within the playing unit and as a team, they were looking forward to a very performance as they prepare for the World Olympic Qualifiers(WOQ) in France in June.
"I was somehow affected with the climate but we have somehow acclimatized as we look forward to a formidable performance as we prepare to take part in World Olympic Qualifiers," Andiego upon arrival in Kinshasa.
The opening matches for the female boxers were cancelled and were expected to resume on Tuesday.
This afternoon, nine Kenyan boxers take the ring for their different bouts.
David Karanja takes on Okashash of Libya in the flyweight, Bakari once again take on Nibomu Moussa of Burundi as Martin Oduor face Anbeeh of Libya in the featherweight ahead of a return match between Nick Okoth against Kitangila Wa Kitangika of DRC.
In the heavyweights, Joshua Wasike faces Mutombo Jeannot of DRC in the heavy weight bout as Olympian Elly Ajowi once again comes face to face with Saad Saad of Libya.
In the female matches, flyweight champion Christine Ongare has a match against Havyarimana Ornella of Burundi, with Stacy Ayoma taking on Tshamala Muenge of DRC in the lightweight match.
The last match this afternoon pits Elizabeth Akinyi against Acinda Panguana of Mozambique in the welterweight (69kg).
UTILITIES.
TODAY'S MATCHES.
Flyweight;- David Karanja Vs Okashash of Libya, Shaffi Bakari Vs Nibomu Moussa of Burundi.
Female;- Christine Ongare Vs Havyarimana Ornella of Burundi.
Featherweight:-Martin Oduor Vs Anbeeh of Libya/ Nick Okoth Vs Kitangila Wa Kitangika of DRC.
Female lightweight;-Stacy Ayoma Vs Tshamala Muenge of DRC.
Female welterweight;-Elizabeth Akinyi Vs Acinda Panguana of Mozambique.
Heavyweight;-Joshua Wasike Vs Mutombo Jeannot of DRC.
Super heavyweight;-Elly Ajowi Vs Saad Saad of Libya.