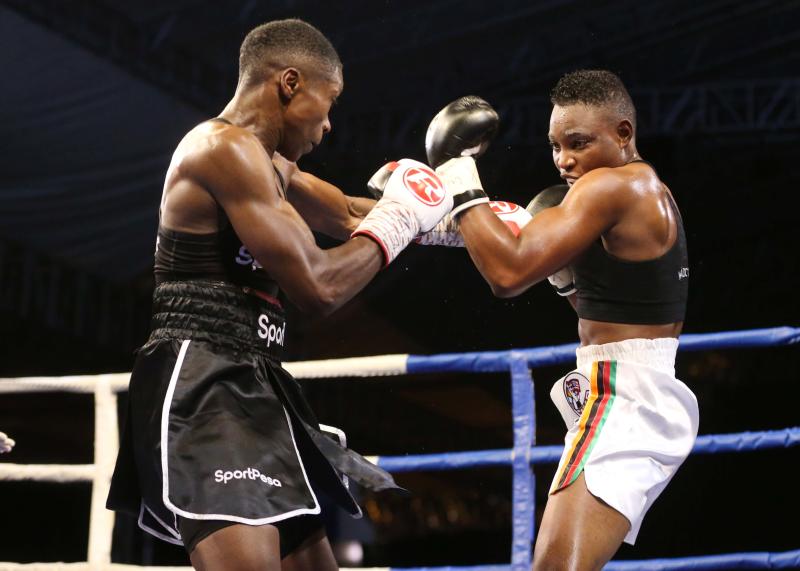 Fatuma will be seeking to reclaim the WBC title next year.
Fatuma Zarika's comeback to a world champion, qualification of two boxers for the 2020 Tokyo Olympics and hosting of AIBA Level Three coaching course marked some of the major achievements in the boxing industry this year.
While Olympic qualification was achieved before the coronavirus pandemic lead to suspension of sporting events in March, the rest were achieved after World Health Organisation and different global governments lifted tough restrictions in the last quarter of the year, which opened doors for a number of sporting activities in Kenya and the world over.
The boxing year started in February with participation of the National Boxing Team in the Africa Olympic Qualifiers in Dakar, Senegal.
Out of the 10 boxers, only two managed to qualify for the 2020 Tokyo Olympics.
2015 Africa Boxing Championships lightweight gold medalist Nick Okoth and national female flyweight champion Christine Ongare booked their tickets to Tokyo next year.
The small number prompted Boxing Federation of Kenya (BFK) to think of sending another team to the World Olympic Qualifiers in Paris, France in June, 2021.
National Head Coach Musa Benjamin confirmed they will send another squad to the global qualifiers to increase their chances of having more boxers make it to the summer games.
"Our dream is to have more boxers qualify and this has prompted us to register our participation in the global qualifiers to enhance our chances of having more pugilists at the Olympics," Benjamin told Standard Sports.
However, Benjamin who is assisted by Kenya Police tacticians David Munuhe and John Waweru said that only boxers capable of reaching the medal bracket will be selected into 'The Hit Squad' heading to Paris.
"Selection will be done on strict merit and only boxers capable of reaching the medal bracket will be given a chance to don national team colours for the global qualifiers," he added.
And after the restrictions were lifted after months on inactivity, former World Boxing Council (WBC) super-bantamweight champion Fatuma Zarika got a chance to fight again.
She faced Patience Mastara of Zimbabwe in Dar-es-Salaam, Tanzania last month and won the vacant World Boxing Federation (WBF) title.
Zarika won the hearts of all the three judges by scoring 97-93, 98-92 and 98-91 to wrestle the title.
It was a great inspiration for Zarika and a boost to Kenya Professional Boxing Commission (KPBC) having lost the WBC super bantamweight title to Yamileth Mercado of Mexico in a rematch in Chihuahua last year.
The WBF victory by the 35-year-old Zarika brings her record to 33 wins(13 knockouts), 13 loses and 3 draws from a total of 46 bouts from the time she joined the paid ranks in 2003.
Winning the WBF title has now revived her hopes to recapture the WBC title next season at a venue and new dates to be determined by WBC executive.
Zarika fight in Tanzania was her first bout in nearly 12 months, as she took a break after losing the world title.
KPBC Secretary General Franklin Imbenzi said they'll support all their boxers win titles around the globe.
As Zarika grapples with the task to win a second world title, she faces the daunting challenge to navigate in between the two weights in bantamweight (54kg) to featherweight (57-59kg) in the WBC and WBF bouts.
After Zarika's success, Kenya also tried her luck to capture the vacant Africa Boxing Union (ABU) heavyweight title forcing Kenya Professional Boxing Commission (KPBC) to dispatch national heavyweight champion Maurice Okolla to Democratic Republic of Congo for a title fight against Jack Mulowayi in Kinshasa on December 19.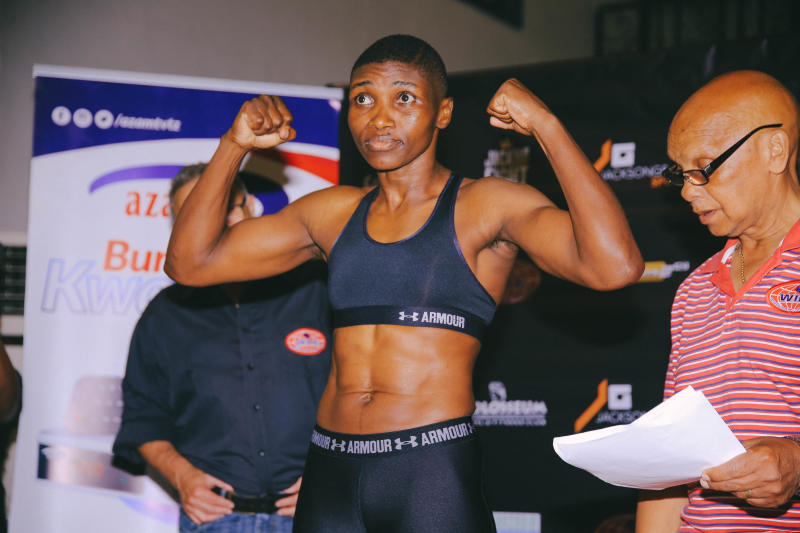 It was never to be as Okolla was knocked out in the fourth round of a 12-round- contest.
As Okolla was squaring it in Kinshasa, former national welterweight champion Dennis 'Bill Abong' Okoth was having a date with Reshat Mati at Seminole in Florida, USA in another 12-round contest.
Okoth was knocked out in the sixth round by Mati in another professional fight.
The Africa Olympic Qualifiers in Dakar, Senegal for the 2020 Tokyo Olympics to be held in Japan was the only international assignment attended by the national team after the National Boxing League failed to box-off following coronavirus disruption.
As there was no time left for the league matches, BFK instead organised an AIBA Level Three coaching course, which was attended by 12 selected coaches from all over the country.
The federation is out to improve the quality of technical bench officials by empowering through organised international courses.
"Our aim is to improve the quality of our technical staff in all corners of the country, hence the need to come up with more of such courses in future as we had limited spaces for attendees due to the pandemic," BFK President Anthony 'Jamal' Ombok said as he looks forward to a good 2021.