For Christine 'Mamushka' Ongare, it's never say die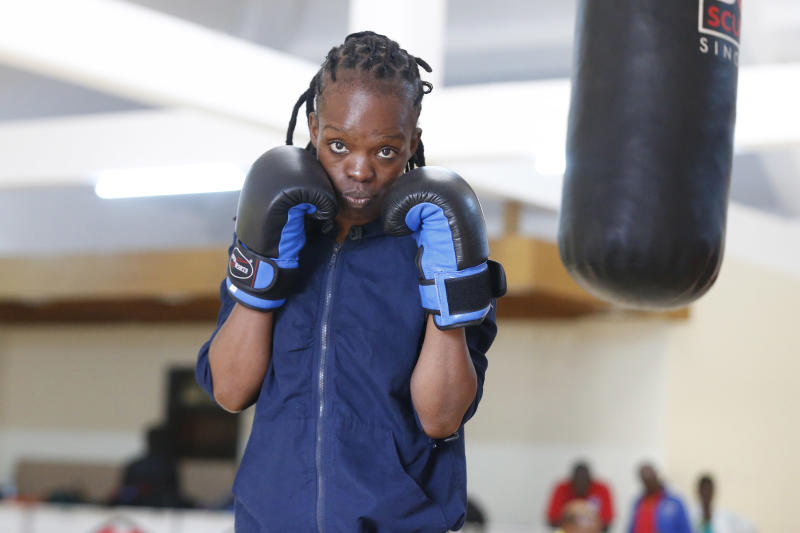 It's strange how fortunes turn around. At 12 years old, star boxer Christine 'Mamushka' Ongare got pregnant –threatening to curtail her career dream of becoming a footballer.
Being raised by a single mother and growing up in the sprawling Kariobangi slums in Nairobi, life was no doubt difficult. Her mother was crestfallen.
"I had a passion to become a star footballer. But that dream was cut short when I got pregnant at 12 years. I had no choice but to accept the reality. My mother supported me during that trying moment," said Ongare.
After she gave birth, Ongare ditched football for acrobatics. "The reason why I took up gymnastics was to regain shape after giving birth. It was through taking up gymnastics that I developed an interest in boxing," she said.
She later joined Box Girl Club in Kariobangi, which she honed her boxing skills. She trained well and took part in a number of competitions that sharpened her skills.
Ongare's breakthrough came in 2017 when she picked a ticket to the Africa Championships in Brazzaville, Congo.
She went ahead to win bronze in women's flyweight category (48 to 51Kg). "That was my turning point. I had come of age. I knew it was possible to be a world champion," she said.
The mother of one retreated to her base in Kariobangi Social Hall and trained harder as she targeted a medal at the 2018 Commonwealth Games in Gold Coast, Australia.
And she did not disappoint. She won bronze to become the only Kenyan boxer and first Kenyan woman to win a boxing medal from the games.
"My focus is the 2022 Commonwealth Games in Birmingham, England. "I want to improve from bronze to gold," she says.
Ongare is grateful have qualified for Tokyo 2021 Olympics.
She hopes to shine at the Olympics and make money to take care of her mother and child.
She has been assigned three coaches namely Musa Benjamin, David Munuhe and John Waweru by Boxing Federation of Kenya.
"I have a big dream, which is to win gold at the Olympics. This is the reason I am not giving up even though I am worried with the ongoing Covid-19 pandemic," she says.
She alternates training at Kariobangi and Mathare depot in her preparations.
She sticks to a training programme sent virtually. "The trainers have suggested that I should improve on my punching power.
"This is my weakest point in the game at the moment," she admitted.
Ongare does a lot of strength conditioning, push-ups and dumbbells to strengthen her arms.
"Squats help strengthen my leg. I also do shadow boxing and rope skipping but no sparring because of coronavirus."
The 26-year-old has reserved Saturdays for road work at the rough terrains in the expansive Kasarani region.
She's grateful that the National Olympics Committee of Kenya (NOCK) has come to her aid to provide training gear that protects her from Covid-19 pandemic.
"I received dumbbells, skipping ropes, mats among other training equipment from Nock to help me prepare for Tokyo," she highlighted.
Apart from boxing, Ongare has no source of income and has been struggling to cushion her family from the current economic meltdown caused by coronavirus.
Her plan is to give back to the society after she hangs her gloves. "I want to inspire upcoming pugilists, especially girls from Nairobi's Eastlands.
"They are vulnerable, they mostly fail to achieve their dreams because of challenges like early pregnancy, drug addiction, poverty among others," she added.