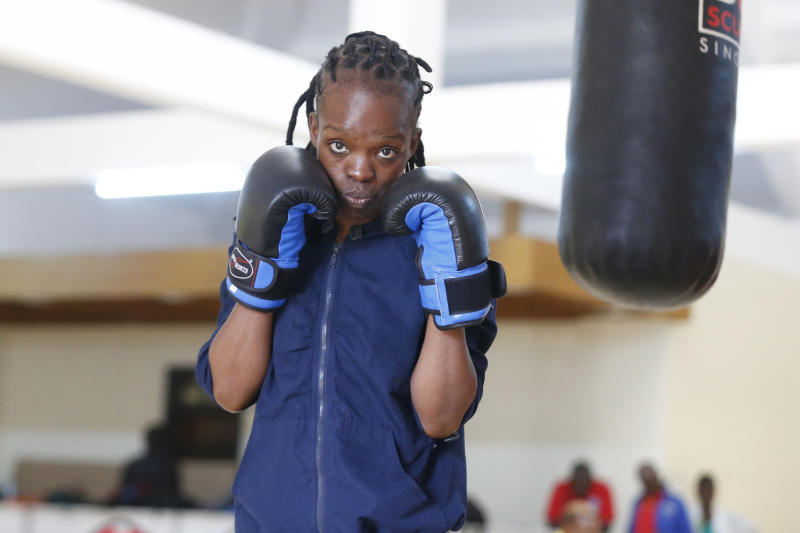 Christine Ongare, the Commonwealth Games flyweight bronze medalist, longs to go one better –win an Olympic medal next year in Tokyo, Japan.
Ongare said she wants to go down into annals of history as the first Kenyan female boxer to win a medal at the Olympic Games.
"I am determined to win an Olympic medal. We are facing tough times, but I am equal to the task of ensuring that I become an Olympic medalist. I hope to change women's boxing pecking order," she said.
Ongare undergoes individual training sessions which, she said, is no easy. This is despite receiving training instructions from national team head coach Musa Benjamin and assistant John Munuhe.
"It is not easy training alone. I was used to getting instructions from my coaches," she said.
Ongare said training without a sparring partner is quite challenging.
"Team training sessions boosts morale among boxers. It gives us confidence before we face our opponents in different international championships. I hope things will change soon," she said.
Ongare and 2015 African Boxing Championships lightweight gold medalist Nick Okoth are the only boxers to have qualified for Olympic Games.
She said determination and hard work saw her earn the ticket to Olympic Games during the qualifiers in Dakar, Senegal, in February.
Ongare earned a bye in the first round before dismissing Omella Havyarimana of Burundi in the pre-quarterfinals to book a date with Modestine Munga of Democratic Republic of Congo in the quarterfinals where she won on points to glide into semifinals.
In the semifinals, Ongare lost to Algerian Rabbah Cheddar, which qualified her to face Ugandan Catherine Nanziri in a box-off contest, which earned a slot in the Olympics.
She said she trains in the mornings daily for at least one hour in a session that comprise roadworks, physical training and thereafter shadow boxing.
Munuhe said they were satisfied with the progress of the two boxers preparing for Olympic Games.
"We have tried our level best to coach them and ensure they maintain their fitness levels," he said.
Munuhe said takes Ongare through her morning training sessions once in a while to gauge her fitness. He is confident that Ongare can make it to the medal bracket at the Olympic Games.
"Her participation in the African Olympic qualifiers has exposed her and given us a chance to learn her weaknesses and strengths in readiness for the Olympics. We'll just polish on some of these qualities," he said.
Kenya is set to take a second team to the World Olympic qualifiers in Paris later this year after International Olympic Committee (IOC) came up with new dates.
Munuhe said their aim is to see at least four other boxers qualify for the Olympics in Paris in 2024.