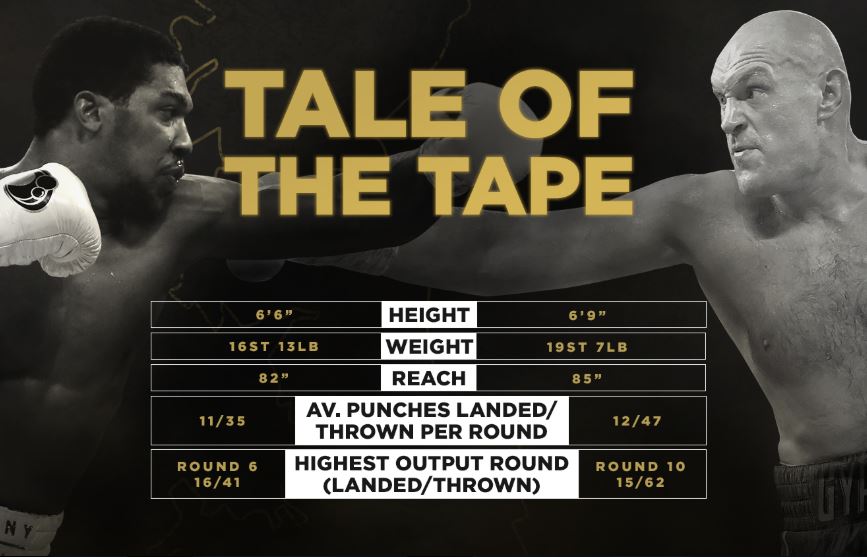 British boxer Anthony Joshua and Tyson Fury have agreed on financial terms for a two-fight deal, according to Sky Sports.
Discussions over an undisputed world heavyweight title blockbuster match between the two fighters began in May and they have now agreed on initial terms for two encounters.
Joshua's promoter Eddie Hearn confirmed the new development on Wednesday.
Hearn told Sky Sports News: "We're making great progress and there is still a lot to overcome. We are looking at venues and dates.
"We have the Dillian Whyte mandatory which is due before this fight.
"It's fair to say [Joshua and Fury] are in agreement regarding the financial terms of the fight.
"We've been talking to [Fury's management team] MTK, giving them the assurances from Joshua's side that all the details on the structure of the deal are approved from our side. And it is from Fury's side, as well.
"We're in a good place. It's fair to say that, in principle, both guys have agreed to that fight. Two fights.
"[There's] a lot to overcome in the meantime. We're moving in the right direction. I'm confident that both guys have given their blessing for the fight to go ahead.
"The point of Fury, Joshua and the teams agreeing to the structure of the deal? The first fight could happen next summer. It will be 2021.
"There is a big period of time where Whyte should get his shot at the title. That's important to us.
"The main positive news is that Joshua and Fury have agreed to a two-fight deal, in essence.
"The most difficult part of any deal is the financial element. I believe we're in a great place where both guys have agreed to what that should be.
"We have not signed contracts because there are still things to be worked out.
"We're pushing towards a place where they can be drafted, for 2021.
"Both guys are in agreement. The structure of the deal has been put forward and agreed to by both parties.
"There is a model in place that both parties are happy with.
"It's the biggest fight ever in British boxing. It doesn't get bigger, and there will never be a bigger fight in our generation.
"Two guys, very different, who fight differently, have experienced different things and have come back from adversity."
In April, Joshua challenged Fury to a fight to determine one dominant figure in the heavyweight division.
Every world heavyweight championship belt resides in Britain after Fury shockingly captured the WBC title from Deontay Wilder in February and Joshua reclaimed the IBF, WBA and WBO gold from Andy Ruiz Jr in December.
According to data from JD Sports and Boxrec, Fury has stepped into the ring 31 times over his 12-year career since turning pro in 2008.
AJ made his professional debut five years later in 2013 and has fought just seven fewer fights.
In the professional ranks, both boxers are tied on 21 knockouts, but given AJ has fewer pro fights, his knockout record betters Fury with an 87.5% KO rate to 67.7%.
Joshua's most lethal round is the second, where he's finished off eight fighters.
For Fury, who has a lower KO percentage, it's the fifth round where he is most dangerous, having taken out four fighters at that stage.