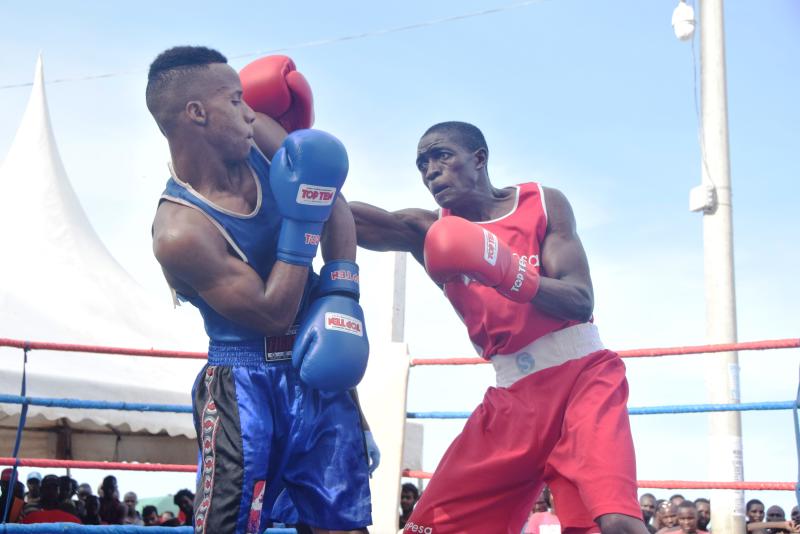 As the final leg of the National Boxing League begins today at Ofafa Memorial Hall, in Kisumu, top favourites of the trophy are defending champions Kenya Police.
Only a miracle will stop the policemen from running away with the cup.
Police have accumulated unassailable 93 points that cannot be achieved by their arch-rivals Kenya Defence Forces (34) or the resurgent Kibra (32), even if they (policemen) fail to win the last leg of the league championships.
Action now shifts to the selection of a provisional squad that will take part in the African Olympic qualifiers in Dakar, Senegal in February next year.
SEE ALSO: Big loss for Nyanza hockey giants as Term I school games fate unknown
All the 18 teams and counties that take part in the league arrived in the lakeside town yesterday.
Boxing Federation of Kenya President Anthony 'Jamal' Ombok asked the boxers to take their matches seriously even as technical director Albert Matito said selection of players will be done on merit.
SEE ALSO: Dortmund 'expect Man United to make Sh14 billion transfer bid' for Sancho
"This is a forum for boxers to showcase their talents as they seek to catch the eye of national selectors for the continental Olympic qualifiers," Ombok told Standard Sports.
In store for the winners will be trophies for outstanding players, coaches and referees in the three-day tournament.
The Best Players (male and female), The Most Promising Players (both male and female), the Referee of the Year Award and the Coach of the Year Award will also awarded.
Also to receive trophies are the league runner-ups and second runner-ups.
The BFK boss appealed to fans to turn up in large numbers to support their favourite teams.