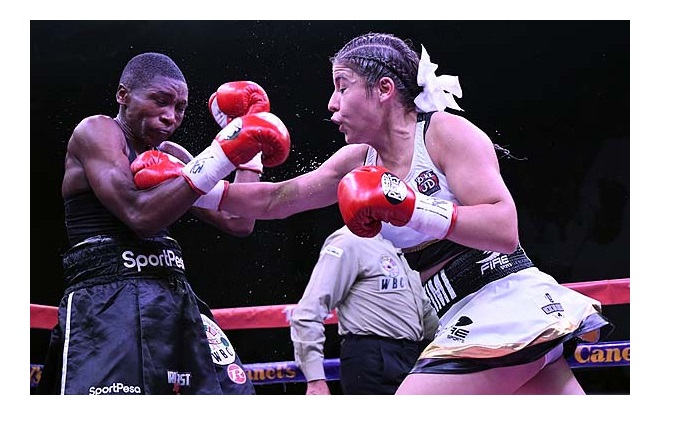 Mexican super bantamweight Yamileth "Yeimi" Mercado on Saturday night dethroned the World Boxing Council Super Bantamweight Fatuma Zarika via unanimous decision at the Poliforo in Ciudad Cuauhtemoc, Chihuahua, Mexico.
The Mexican won with a unanimous points decision of 99-91, 98-92 and 99-91.
Zarika lost the fight in a rematch bout that pushed her record to 32 wins, 13 losses and two draws while Mercado has improved her record to13 wins and two loses from 21 bouts.
Following her defeat, Zarika, in a video that has since gone viral on social media, lamented that she lost the match because she did not receive any assistance from the government when she clinched the WBC super-bantamweight title in Nairobi last year.
"Nimekaa na hiyo belt miaka nne. Na hakuna kitu mzuri ishaikuja except SportPesa. Government haitaki kushughulika, afadhali mshipi ibaki Mexico, mahali ambapo watai take care," she said.
(For four years, I've held the title and the only good thing I've received was help from Sportpesa. The government did not do anything, so, it's better the belt remains in Mexico where they can take good care of it).
Money that supported the boxing legend started drying up about three months ago when uncertainty hit her sponsor Sportpesa due to a row with the Kenya Revenue Authority (KRA) overpayment of taxes.
However, the 34-year-old Zarika has a privilege of a rematch against Mercado in 90 days as stipulated in their contract signed before the bout.
When Zarika lifted the title last year against Mercado, it was her second title defence fight having earlier beaten Phiri (Catherine) on December 2, 2017 before they (Zarika and Phiri) met again on March 23 in the Kenyan capital city where Zarika won on unanimous points' decision.
Mercado, who was not ready to disappoint her home fans, became the first woman from the Mexican state of Chihuahua to become a world champion.
"Yeimi" was in command all the way and won by scores of 99-91, 98-92 and 98-92 to became the thirteenth Mexican female ever to hold a world title belt.