African Games: Mogunde and Ramogi win bronze medals in Morocco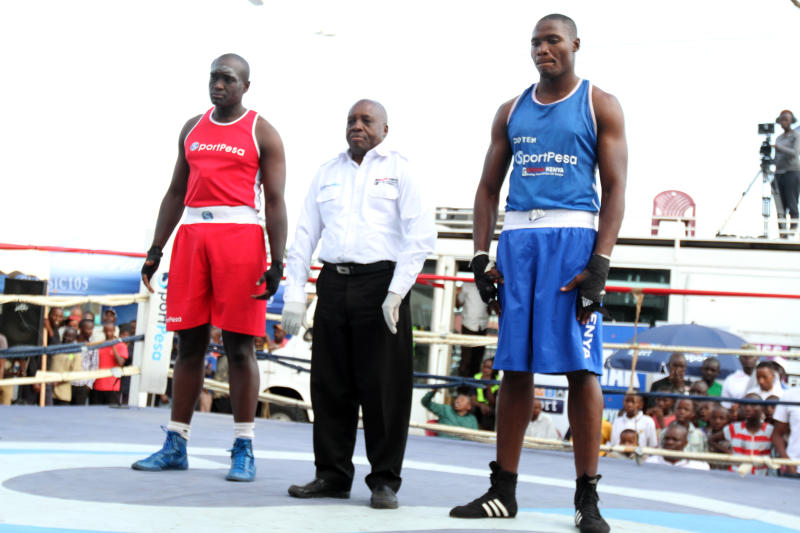 The performance stands out as a great achievement from boxing squad compared to 2015 showpiece in Congo.
Kenya won two bronze medals in boxing at the African Games in Rabat and Casablanca in Morocco yesterday.
National welterweight champion Boniface Mogunde and his superheavyweight counterpart Fred Ramogi won the medals.
Mogunde lost the battle for gold medal to Nigeria's Osoba Abdul Afeez Ayoola after he was defeated in unanimous points decision at Amani Indoor Sports Centre in Rabat.
Tshikera Jeamie Kibembi of Democratic Republic of Congo beat Ramogi also won on unanimous points decision.
The performance stands out as a great achievement from boxing squad compared to 2015 in Congo Brazzaville when Kenya only managed to win a bronze medal through the then Africa light champion Nick Okoth.
That defeat may not inspire Mogunde much as he desired to win gold medal to increase his prospects of getting picked into the 'Hit Squad' for 2020 Tokyo Olympic Games.
But quite a number of boxing analysts praised the performance of the two boxers who have reached the medal bracket in major international championships, especially Mogunde who was on his debut at the African Games.
Enroute to semifinals, Mogunde defeated Goma Naftali Afonso of Angola through a unanimous points decision in a quarter-final encounter after dispatching Ethiopia's Keralah Mestin Biru 3-0 in a prequarterfinal match at the same venue.
Ayoola will battle Claire Merven of Mauritius in the welterweight finals on Saturday.
Merven saw off Kapenga Nsaka Idriss of Democratic Republic of Congo 4-0 in another one-sided welterweight semi-final clash.
In semi-final, Ramogi knocked out Mohammed Firise of Morocco in the first round after getting a bye in the opening round of the weight category earlier.
Their defeat left three more Kenyans, who were scheduled to take the ring in their semi-final matches of different weight categories last evening, in contention.
They were flyweight Shaffi Hassan Bakari (52kg), middleweight Ouma George Cosby (75kg) and heavyweight Elly Ajowi (91kg).
Bakari was set to battle Wibshet Dawit Bekele of Ethiopia while Cosby was to take on Allali Tarik of Morocco. Ajowi was set to meet Baalla Youness of Morocco.