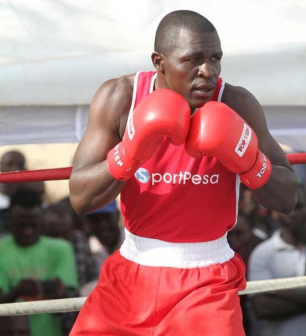 Defending champions Kenya Police and Kenya Defence Forces renew their rivalry as the penultimate leg of the National Boxing League heads to Madison Square Garden in Nakuru tomorrow.
The three-day competition, which will end on Saturday, has seen KDF exude confidence of winning the Nakuru Championships and renew hopes of bridging the three-point difference deficit.
Should the soldiers complete that feat, they will wrestle the overall title from the policemen during the final leg of the tournament next month in Mombasa.
KDF team manager Ben Maingi said they had an array of experienced boxers, led by African lightweight champion Nick Okoth. They also have three boxers in each weight category who are capable of turning the tables on their rivals. Their head coach Sammy Magima will need to marshal his team if they are to win the title.
Okoth leads Magima's expectations in the race for the title following their resurgence in Thika where they won the third leg.
Okoth makes a comeback to the local scene after taking part in the World Boxing Championships in Germany in August where he bowed out in the second round after sustaining double cuts on his right eye in his fight against Brazilian De Oliveira Wanderson.
"He is in a superb condition and ready for the duel as we renew our fight for the title," Maingi said.
He said they have rectified some mistakes they committed in the second leg in Nanyuki. Police won the leg, before the soldiers replied with a deserved victory in Thika to make the battle for the overall title a two-horse race.
Police are leading the 16-team standings with 60 points ahead of KDF 57, Kenya Prisons 12, Dallas Muthurwa 8, Kenyatta National Hospital (KNH) 8, Coast Combined 8 and Githurai-44-Soweto 7.
Nairobi County have seven points, Kentract 6, Oscar Kassongo Sports Academy (OKSA) 6, Kisumu 5, Kongowea 4, Thika 3, Kibra 3, Ndenderu 1 and Nakuru ABC have no point.
"We have been training for the past two months and are ready to give a good account of ourselves," said Magima.
However, Police head coach George 'Foreman' Onyango said they will not relent in the title chase.
"The title is ours to lose having had a false start before we caught up to beat our arch rivals (KDF)," Onyango, who is the 1987 All African Games gold medallist, said.
Boxing Association of Kenya Vice President and League Coordinator Albert Matito said weighing-in and medical check-ups will be done everyday between 8-10am ahead of the matches at Madison Square Garden (in case of rain) or Nyayo Garden.
"Matches are scheduled for Nyayo Gardens if it does not rain and vise vasa at Madison Square Garden," said Matito.
He said his executive committee will meet tomorrow to deliberate on the new dates for the final leg of the league in Mombasa next month and also the Kenya Open Boxing Championships that concludes the federation's calendar of events in Nairobi this season. [Ben Ahenda]