KPA confident of caging Equity Hawks in Game 3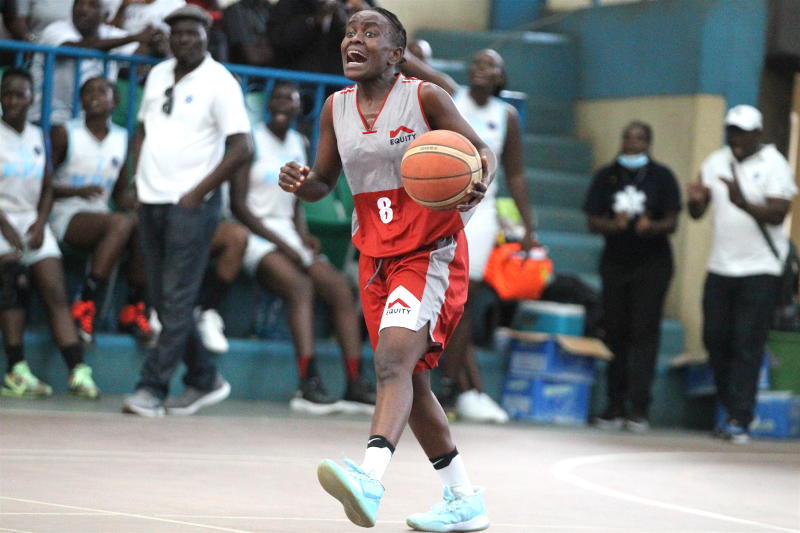 Kenya Ports Authority (KPA) are confident of finishing off Equity Hawks when they host the defending champions in Game Three and Four at the KPA Makande Gymnasium at the weekend in the Kenya Basketball Federation (KBF) Women's Premier League finals.
The dockers on Sunday bounced back from Game One disappointments to tie the series at 1-1 in the best-of-five finals playoffs that begun over the weekend, at Nyayo Gymnasium.
The bankers on Saturday came from behind to edge KPA 53-51 despite trailing in the opening three quarters.
However, the Mombasa-based ladies hit back the following day to level the series after a dominant 58-45 victory performance.
KPA point guard Natalie Akinyi believes if they utilise their home court advantage, they might just reclaim the title they last won in 2018.
"Mombasa is home. Honestly, we are going to defend our home ground. The last time we played Game Three, Four and Five in Mombasa, we won the championship and we are looking forward to do that again," Akinyi said.
KPA head coach Anthony Ojukwu said winning away from home was a boost to the team as they head into the crucial two matches in Mombasa.
"I am very happy with how we played despite losing in Game One. We were able to shrug off the disappointments and take a win away from court," said Ojukwu after the match.
"We did nothing different from Game One, but finished strongly especially in the third quarter and fourth, which we did not do in Game One."
KPA will be boosted by the return of former national team captain Hilda Indasi, who missed the Nairobi matches, while Equity are hoping that Belinda Akoth will be available for selection after missing out with an injury.
On Sunday, KPA's Rebecca Nkatha, Vilma Achieng and Selina Okumu were superb for the former champions after the trio contributed a combined 34 points.
Captain Achieng, who was kept quiet in Game One (six points), registered a double-double after dropping 12 points and 12 rebounds to lead KPA to victory. She was followed by Nkatha and Okumu, who each registered 11 points.
On the other hand, Equity's Samba Mjomba dropped a game-high 17 points followed by Mellisa Akinyi, with nine points.
KPA and Equity have dominated the league for the past four years with each winning twice.
KPA won back-to-back titles in 2017 and 2018, while Equity won in 2016 and 2019.
Meanwhile, the men's finals play-offs took another twist after KBF announced that Game Five semifinal playoffs between KPA and Equity Dumas, will be repeated.
This is after Equity wrote to the federation citing insecurity and crowd troubles they faced at Makande Gymnasium in their 66-54 defeat. The match ended with 59 seconds left to full-time.
The match will be played over the weekend.