After 30 years of patience and toil, Kenya Morans begin to reap fruits of their labour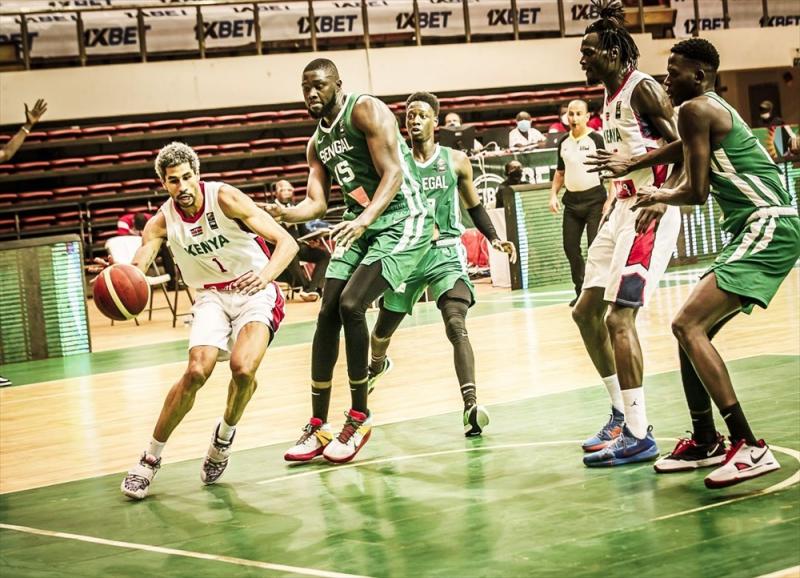 Some international championships capture the imagination with their sheer energy and joy, featuring basketball flamboyance or ground-breaking, era-defining tactical revolutions.
The triumphs and disasters played out in front of the watching African continent can resurrect memories of childhood past, reaffirming a love for the game that some lesser tournaments may make us question.
Some tournaments just have it all, and the 2021 AfroBasket qualifiers was one of those moments.
This tournament sizzled with sensational shocks, drama and wonderful basketball.
It's a moment that saw the might fall as underdogs rose from the ashes.
With the Covid-19 pandemic gripping the global sporting activities, no one saw Kenya, an underdog in basketball, qualifying for this year's AfroBasket championship currently underway in Rwanda.
Kenya Morans edged out 11-time African champions Angola 74-73 to qualify for the 2021 continental showpiece for the first time in 28 years.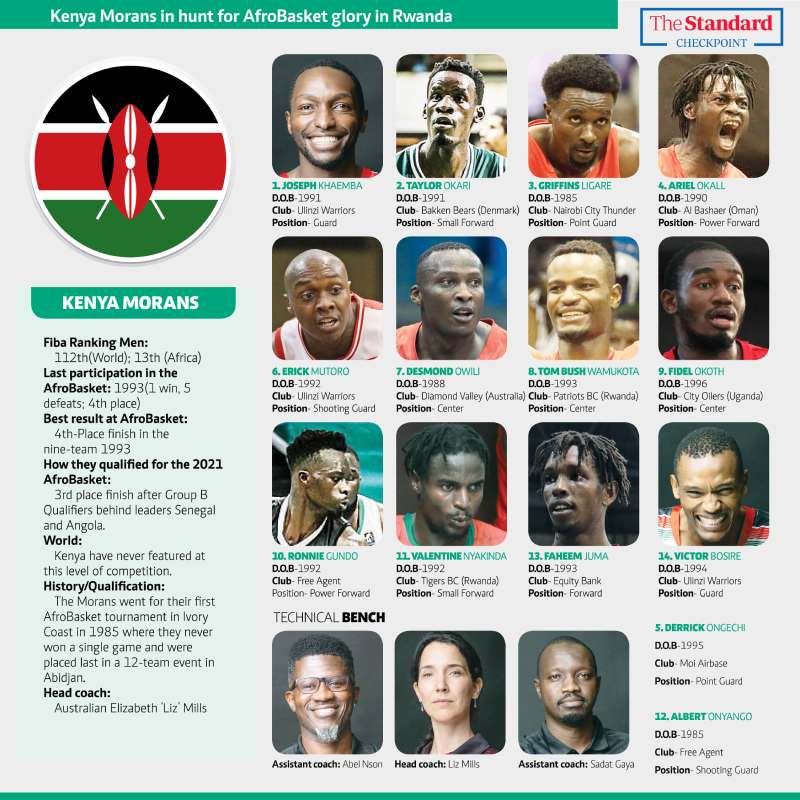 And they did it in style. With five seconds left and a slim 73-72 lead for Angola, the ball was delivered to Taylor Ongwae who signalled everyone to space out. He needed to face his marker.
He made a body feint and his opponent fell for it. The path was clear and he hammered home a last gasp shot.
His attempt hit the ring before caressing the net to grant Kenya an impressive win and a slot to the African tournament.
Despite losing to Mozambique and Senegal in the other group matches, Morans finished third in Group B with eight points, one more than Mozambique.
Senegal topped the standings with 11 points in the four-team group followed by Angola with 10 points.
Kenya won two of the six qualifier matches to bag eight points. They won one game in each of the qualifiers in Rwanda and Cameroon.
And to achieve the big leap after 28-years, most of the credit goes to history-making Australian coach Liz Mills.
Mills has been a revelation since joining the Kenyan technical bench in February earlier this year.
However, Morans' journey to Afrobasket started with a second-place niche at the inaugural FIBA AfroCan tournament in 2019.
Prior to the outbreak of the pandemic, Kenya hosted the preliminary qualifiers of the 2021 Afrobasket championships at Nyayo Gymnasium, where they won all their matches.
The Morans defeated Eritrea 112-64 before hitting Tanzania 95-59 in the second match. In Game Three, Kenya thrashed neighbours Somalia 102-77 before registering a 101-83 win against Burundi.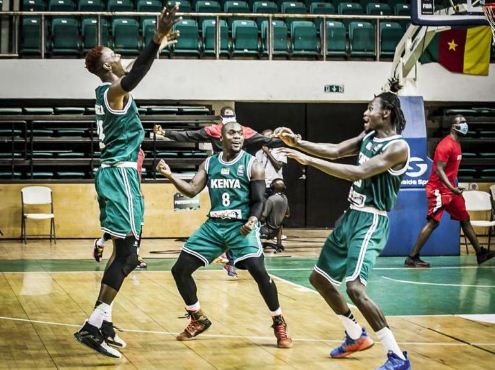 Kenya then sealed their ticket to the second round of the Afrobasket qualifiers after beating South Sudan 74-68 in a tight match that saw Griffin Ligare and Robert Nyakundi combine for 45 points to send Kenya through.
The dominant performance earned Morans the dream ticket to the second phase of the qualifiers where Kenya only needed to beat Mozambique and Angola to qualify.
In the first leg of the qualifiers played in Kigali in November last year, Kenya lost two consecutive group matches; 92-54 against Senegal and 83-66 to Angola.
Just as Morans were planning for the second leg onslaught, head coach Cliff Owuor ditched the national team and joined Rwanda Patriotic Army.
Under assistant coach Sadat Gaya, Morans resumed training in the bubble until the new darling of Kenyan basketball fans, Australian coach Liz Mills came calling.
With her high heel black boots, Mills took a new look Morans team to Cameroon ready to make history. And history she made.
With a team comprised of Griffin Ligare, Erick Mutoro, Joseph Khaemba, Tylor Okari, Preston Bungei, Ronald Gombe, Valentine Nyakinda Eric Mutoro, Bush Wamukota, Desmond Owili, Fidel Okoth, Fahim Juma and Victor Ochieng among others, Morans sailed through.
The closest team that can match the current Morans squad is the 1993 national team coached by Philip Yugi and captained by former Kenya national women's basketball coach Ronnie Owino.
Despite eight players making their debut at the championship, the 1993 squad registered an improvement in performance compared to their last two results in 1985 and 1989 by finishing fourth.
Other than Owino, the team had Sam Omolle, George Owino, Elvis Ochieng, Ben Wanjara, Ronnie Swaka, Robert Omolle, Peter Kiganya, Peter Otieno, Alex Aluga and Anthony Ojukwu.
Kenya's top achievement in this championships is reaching the semifinals in 1993.