How Kenya Morans captain Ligare dribbled his way into fans' hearts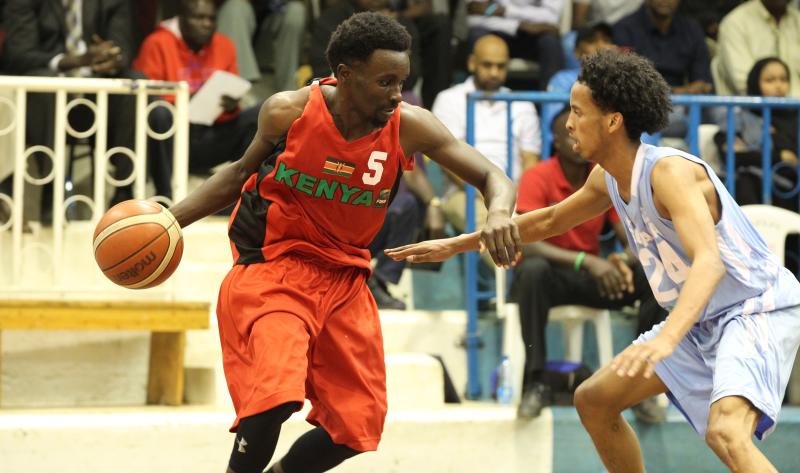 His height may not match American legend Michael Jordan whom he grew up idolising, but Kenya Morans captain Griffin Ligare has surely created a place for himself in the hearts of basketball enthusiasts just like his idol.
Enviable ball handling skills, speed, discipline and intelligence have made him irresistible and even opponents can't help but marvel at his mastery of the game.
No wonder fans christened him Kenya One denoting that he is the best player the country has ever produced. He plays every game like his last and wants to be remembered for his passion for basketball.
He is a man on a mission, to take Kenyan basketball to greater heights. Though he was always on top of his game, Ligare says 2017 was the most difficult time as a zygomatic injury sustained during the Intercity Challenge, threatened to curtail his playing career.
A zygoma fracture (zygomatic) is a form of facial fracture caused by a fracture of the zygomatic bone. A zygoma fracture is often the result of facial trauma.
"It was tough because at some point I was not sure I will recover and play again. I had a very serious zygomatic injury and I had to undergo a facial reconstruction," Ligare said.
He, however, bounced back and the following years have been successful locally and internationally. Born in Nanyuki to a soldier, Ligare's love for sports developed at a tender age.
"My late father was a Kenya Army officer and so we lived at the Nanyuki Engineers Barracks. The sports facilities were excellent and I started playing football because then it was popular than basketball."
For years, he sharpened his football skills and would compete in local competitions as well as primary school games. At Sipili Secondary School, he decided to give basketball a chance.
"When I joined Form One, I started playing basketball as a second sport. Basketball and football were held separately in term one and two so it was easy to participate in both without giving up on one."
Ligare did not achieve much success in his formative years with his school team. His best performance was a second place finish after losing to Nanyuki High School in the Laikipia District final.
"Secondary school sports are very competitive, the energy and commitment at the games is out of this world. Looking back I think it is easier to win a league or championship final than a high school game," he added with a grin on his face.
Despite not winning any titles in school, he refused to give up but instead continued to work hard to become a better player. Inspired by his idol American legend Michael Jordan who said that he wasn't afraid of failures because it was through such that he succeeded, he would later choose basketball.
"I had played football longer but I was passionate about basketball and my desire was to become a better player. I resolved to put in more effort and so I spent more time on the court to learn new skills and improve myself."
After high school he joined Kenyatta University (KU) in 2004 where he played for the varsity's side Pirates under coach Waringo Gitau.
"Every second in training and game was a learning moment for me at KU Pirates and I'm very grateful to coach Waringo and our then captain Emmanuel Sande for they helped me become a better player."
He won the 2005 Kenya Basketball Federation (KBF) Division One in 2005 and the 2006 Universities and Colleges Basketball League titles. After close to five years with KU Pirates, he joined his current Club Nairobi City Thunder then known as International Christian Centre in 2009.
A year later he sealed his first national team debut as he travelled to Kigali, Rwanda for an AfroBasket qualifying tournament.
"My first national team call up was in 2006 but I didn't make the final squad, I was not disheartened because to me it was a call to work harder. It took me years to get my place in the team and I must say I was better, more confident and ready when it finally happened."
Since 2010 the Thunder point guard has been a key player for country and club and currently captains both.
Ligare was named the national team captain last year and his talent blended with unrivalled leadership skills which has seen him lead Kenya to success in three international assignments.
"We have improved and 2019 was a good year for us and we also started 2020 well but we must maintain the upward trend."
Last year in his first task as the national team skipper, Ligare led Kenya to a Zone V men's title in Kampala Uganda. He was also brilliant in Kenya's historic 97-79 over North Africa giants Egypt, a first as Kenyans had never beaten the Egyptians in the sport before.
Thereafter he led Kenya Morans to a second place finish in the FIBA AfroCan Championship after losing to Democratic Republic of Congo 61-82 in the final staged in Bamako, Mali.
At the beginning of this year, Ligare led from the front anchoring Kenya to a 74-68 victory against fierce South Sudan in a decisive 2021 AfroBasket qualifiers match at Nyayo Gymnasium to qualify for the last qualifying round set for November.
"It took a great team to achieve such milestones last year. I believe a team isn't only made up of players but also the technical bench, management of the sport and also the fans who all play different roles but for a common goal. More the team needs financial support so we can prepare well for the final round of qualifiers."
Kenya will be up against bigwigs Angola, Senegal and Mozambique and Ligare believes that with the right preparation they can seal their return to the continental showdown after 27 years in the cold. To make it to the Africa battle set for August 2021 in Rwanda, Morans need to finish in the top three.
"The situation might be different due to the coronavirus but I believe the players' desire and purpose to return to AfroBasket championships has not changed and gets stronger by the day. We are training hard individually because we have one objective. Coach Cliff Owuor has not ceased encouraging us to believe in ourselves and continue working hard."
Last season, he led Thunder to the final of the KBF men's Premier League as they finished second to champions Ulinzi Warriors.
"The past two seasons have been good for us (Thunder) but we are yet to give our best. My aim is to contribute to my club's goals of making Thunder a great basketball in the region. We also want to play in the Basketball African League (BAL) which means that we have to not only win the league title but also be the best in our zone," he added.
He says Thunder is family and they strive to build one another in the game hence the impressive results over the years.
"At Thunder we believe in both individual and club growth and we are more of a family than club. We have been improving with every season and I'm confident we can only get better."
He is full of gratitude for coaches who have contributed to his immense growth.
"It is impossible to walk alone and I am grateful to Thunder coaches Faustin Mghendi, Sadat Gaya and former national team captains Ben Oluoch and Ancet Wafula who I still learn from. Coach Owour, Carey Odhiambo and Peter Kiganya have also played a key role in my career at the national team level among others."
Away from basketball, Ligare is a Physical Education teacher at the International School of Kenya.
He is also involved in talent nurturing programmes in the city. He did not abandon football altogether and plays with friends occasionally to unwind from his busy schedule.
To upcoming players, Ligare who is also a teacher, they should always strive to get their priorities right.
"Just like me most athletes begin to play in school but one must get their priorities right, remember that while in school you are a student first then an athlete. In addition, be passionate, work hard to improve your skills in basketball or any other sport you love, have unending thirst to better yourself and always strive for greatness."