Gaceri's journey to being among the best in 2019 KBF season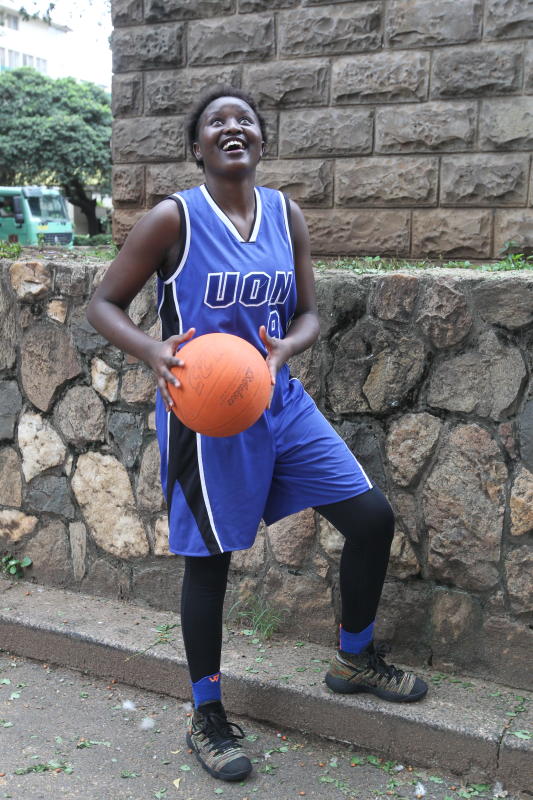 She was dropped from national Under-18 team in 2017 but was among stars who made league memorable
UON Dynamites player started as a footballer, played handball and volleyball and was also into music and poetry.
She may not be very popular, but Shalon Gaceri is undoubtedly one of the players who made the 2019 Kenya Basketball Federation (KBF) season memorable.
The 20-year-old University of Nairobi (UON) law student was impressive as her side stunned opponents in the women's Premier League to finish fourth despite being rookies in the top tier.
Keen to emulate her role model Kenyan international Felmas Koranga who plies her trade in the US for Troy University, Gaceri took the league by storm troubling rivals as UON Dynamites chalked one victory after the other.
Her exploits in the league angled the power forward as one of the most promising defensive players.
"I had to step up and put in more effort just like everyone else in the team. I'm very strong in defence and rebounds so I made sure that our opponents didn't have it easy. We had a slow start to the season because we were not used to physical games but after adjusting we finally got it right," Gaceri said.
Gaceri was very active in sports in her formative years and played football, handball and volleyball.
"In primary school I played most of the sports because I was trying to find my forte. At that level, I enjoyed playing volleyball and I even made it to the Tharaka Nithi County select-side for primary school games."
However, while experimenting with several sports, her brother Tony Mwenda who plays for KBF Premier League side Emyba suggested she takes up basketball once she joins secondary school.
"Tony told me I had good height and should not waste time trying many sports, but instead play basketball immediately I joined high school."
From Reverend Ikingi Boarding Primary School she joined Loreto Limuru Girls in 2013 and heeded her brother's counsel to start playing basketball.
"I listened to my brother and decided to play basketball. Coach Robert Odecho also made it easy for me because he came to our class looking for tall girls and I made the cut although being new to the sport I didn't make it to the first team right away," she said.
She, however, did not ditch football and continued playing for the school team. Gaceri was also into music and poetry and went all the way to the National Music Festival in 2013 but she loved basketball more and decided to quit everything else and concentrate on developing her playing skills.
"It was tough balancing all the activities I was involved in and class work so in 2014, I made a decision to play only basketball. I enjoyed the sport even though I had made it to the nationals in music the previous year."
Despite not making it to the main team in 2014, Gaceri was privileged to travel with the team to secondary schools games which she says motivated her to work harder.
"Travelling with the team especially to the national games and not being able to play inspired me to work harder and earn my place in the first 12."
In 2015, she finally made it to the team and together with Dynamites teammates Trizah Akeyo and Faith Atieno, qualified for the national games.
"We had an unbreakable bond as a team and we always gave our all and played our hearts out because we wanted to leave a legacy. We also had very good teachers who were also coached us.
"Teacher Francis Sori made us work very hard in train made sure that our fitness levels were high while Steve Muniu was not hard on us so they complemented each other to our advantage," Gaceri said.
She also attributes her growth in the sport to current UON Dynamites Juma Kent and Maurice Obilo of Zetech University.
"They used to come and coach us at school once in a while and we always had something to learn from them each time they coached us."
She succeeded Akeyo as the captain in 2016 and led her side to the national games for a third year in a row.
"I was determined to return to the nationals because the school had high expectations; we were celebrated and respected by everyone. We were role models and other students looked up to us because we worked twice as much in class so that we could excel in both sports and academics. Basketball gave us a sense of belonging," Gaceri added.
To achieve their objectives, they helped each other and ensured that no one was left behind in class. Her parents who played volleyball in their youthful years were very supportive in her journey.
Nonetheless, trouble came calling when she scored low marks in Kiswahili and her mother who had no problem with her playing, even when she broke her finger while playing volleyball in primary school was unhappy she thought it was because of playing basketball.
"My mother was furious when I scored low marks in Kiswahili. She thought it was because of basketball and even wanted me to stop playing but I managed to convince her that I will work harder and improve and she let me play."
She adds that playing basketball enhanced her good performance in class. "It is through basketball that I mastered time management skills, discipline and the value of hard work. I also learned to effectively complete tasks within a very short time and it also improved my concentration."
In 2017, while waiting to join UON for her undergraduate degree in law, Gaceri played for Strathmore University.
In 2018, she started playing for Dynamites and they earned a promotion to the women's Premier League after finishing second behind Nazarene University in Division One.
Dynamites were brilliant last year finishing fourth in the top tier and Gaceri says they will fight to maintain their spot.
"We expect a very stiff season because unlike last year when we rode on the surprise factor, most teams will be out to beat us more so the ones we defeated.
"Many of our opponents who had written us off last year will be more prepared and that only means that we must work harder," she continued.
Gaceri, who is brilliant in defence and rebounding, noted that she must work hard to also improve in the offence.
She looks forward to playing for the national team having suffered a setback in 2017 when she was dropped from the Under-18 3-on-3 national team.
"It hurt a lot when I fell short and didn't make it to the national team so I resolved to work hard and become a better player and hopefully I will make the cut for the senior team."
To students and upcoming players, Gaceri says that the first step to success is to know who you are.
"Know yourself first, by understanding your strengths and weakness you will be able to improve yourself for what works for someone else may not work for you.
"Also, find something that helps you learn. For me, it was basketball. It brought the best out of me. Learning should be fun so strike a balance in everything you do and above all, be consistent because successful learning requires consistency."