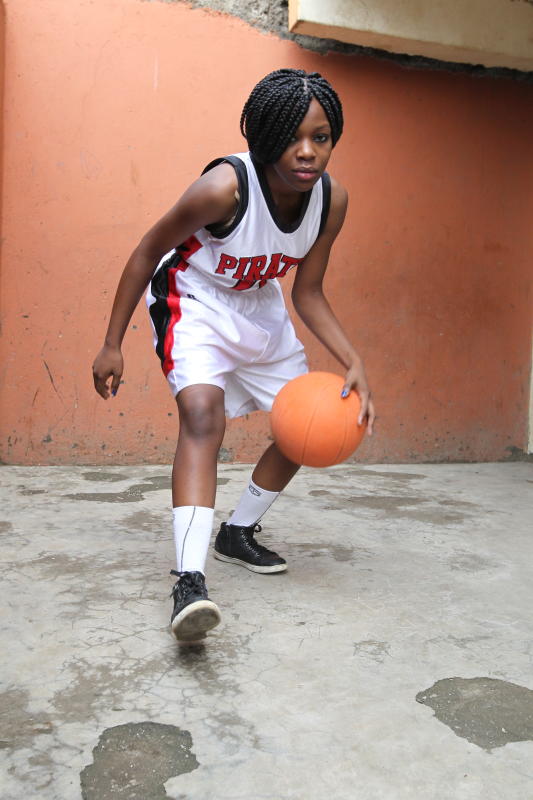 She aspires to become a teacher and coach so she can transform lives.
Mua Hills Girls Meter Dei captain led her side to their maiden Secondary Schools National Term One games last year.
In 2017, Zulfa Mghoi just like her peers was looking forward to make a milestone in life.
She had performed well in the Kenya Certificate of Primary Education (KCPE) exams and was eager to join a high performing secondary school.
But her academic dreams crash-landed as she painfully watched her former classmates and St Teresa's Girls Primary School proceed to secondary schools.
"I almost gave up because I had received several admission letters but my mother kept quiet. My classmates and friends had reported to their respective schools but I was still at home with hope fading away each passing day. It was agonizing," Mghoi said.
Having fallen in love with basketball at a tender age, Mghoi did not know the sport she passionately loved would come to her rescue. Over the years, Mghoi defied her mother sneaked out to play basketball at the Kenya Christian Industrial Training Institute (KCITI) Eastleigh.
"Basketball gave me access to education and an opportunity to change my life. I was offered a scholarship and the school also provided uniforms because my mother couldn't cater for all my needs," she recalled.
It was at KCITI under the tutelage of Richard Mudi that her talent landed her on a partial scholarship at Mua Hills Girls Meter Dei. It turned out that as she was staring at a bleak future her basketball prowess had caught the eyes of a coach who helped her secure a scholarship through Mua Hills coach Mike Kamanda.
"A coach from Nairobi asked me if I could offer a scholarship to a talented needy student and it so happened that I had earlier proposed the same to our school principal who had accepted to support two girls," Kamanda said.
Kamanda met Mghoi and her mother before hastening the admission process to help her join the school and catch up with other students. "I was impressed after meeting and assessing her abilities, I didn't want her to lag behind and so I ensured that she was admitted so she could catch up with her classmates who had already begun learning," he added.
Mghoi, who made the school's team weeks after joining Form One, was put to the test during the annual Lenana Founders Day Open Tournament and she didn't disappoint.
Very disciplined student
"She changed our basketball and we have been on the rise since her arrival. During the tournament, we played well and we also made it to the Eastern Region games semi-finals for the first time although we lost to Kirigara Girls who had dominated the region's crown for years. She is not only talented but also a disciplined student.
In 2018, they lost to Kirigara in the final before improving to win last year's regional title and secure their national debut.
"We wanted to make history and we worked very hard, last year we gave our best and qualified for the national games. We lost all our matches at the national games because it was our first time and we were in a tough pool but we gained immensely and we were looking forward to a good finish this year," Mghoi added.
Mua Hills made their debut against 2018 champions Kaya Tiwi before taking on eventual winners Buruburu Girls and Loreto Limuru. Mghoi, now a Form Four student, hopes to sign off in style as the games were called off due to the Covid-19 pandemic.
"We had big plans because we wanted to leave a mark at the school as the first team to have excelled at the nationals. We achieved our first objective of qualifying for the national games last year and with the experience gained we were hoping to reach the final this year and qualify for the East Africa games."
She was anticipating a great year as her mother was also planning to grace the school games and watch her play for the first time.
"I loved basketball but my mother was against it and she even told me to stop playing but I defied her and trained without her knowledge. She is happy the sport has changed our lives because my sister was also given a chance at Mua Hills. My mother was planning to watch me play for the first at the school games this year but now she has to wait longer."
As the crisis continues to bite, she fears that she might not be able to achieve her goal. "Time seems not to be on our side because being a candidate I will also need to prepare for my final exams and might not get a chance to play even if this year's games are held on a later date."
Being raised by a single mother, Mghoi also found fatherly love in basketball and now considers the University of Nairobi Dynamites coach Juma Kent as her father.
"He (Kent) has done so much for me, I call him daddy because he also considers me a daughter. He gave me a chance to experience a father's love and I go to him for parental guidance. He also brought me and my younger sister well-wishers who paid our school fees and relieved my mother of the financial burden."
Mghoi, who also plays for Kenya Basketball Federation women's Division One side Footprints, aspires to become a teacher and coach so she can help transform lives. "I was helped and so I also want to help others, I come from a place where many children are suffering and I want to change their lives."
Poverty in the densely populated Eastleigh area has seen many children turn to crime and drug addiction a trend she wishes to stop. "Poverty levels are high, many street children here are victims of circumstances and some have even been chased away from their homes by their parents who can't provide their basic needs. Quality of parenting here is also wanting in most cases as some parents also abuse drugs denying their children parental care."
She notes that basketball saved her from all the vices that she might have fallen prey to had she been idle like many girls of her age.
"Had it not been for sport, I might not have made it this far just like many girls who have become victims of unwanted pregnancy, early marriage and drug addiction. Basketball is my safe haven."
She dreams of growing in the game and playing for the national team as well as women Premier League champions Equity Bank Hawks. The upcoming shooting guard draws her inspiration from Equity Hawks centre Belinda Okoth.