How Morans' Juma become basketball star from football-mad Eastlands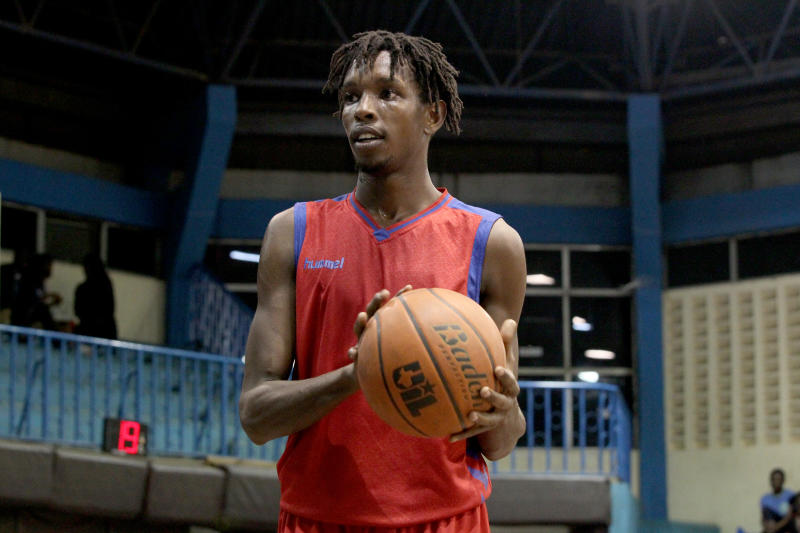 The saying fortune favours the brave may not be far from the truth if Kenya Morans star Faheem Juma's journey is anything to go by.
While many of his Morans' and his club Thunder's teammates began playing basketball in secondary school, he only discovered the sport after completing Form Four.
Bred in Makongeni, Juma who says it took him a lot of courage to learn to play basketball is now one of the most brilliant and dependable guards for Kenya and Thunder.
Growing up in Eastlands part of Nairobi which is popular for churning out football stars, and with City Stadium just a walking distance from his house, Juma knew a lot about football and nothing about basketball.
Secondary school where most have their first encounter with basketball did not favour him either because Al Ansaaru Don Bosco where he studied didn't even have a basketball court.
As destiny would have it, Juma was walking around Shauri Moyo when a stranger fascinated with his height approached him and asked if he played basketball.
"It was in 2014. I had completed Form Four the previous year so there wasn't much for me to do. To beat boredom, I used to go for a walk.
"One day a stranger approached me and asked if I played basketball. He told me how my height would take me places if I tried the sport and even directed me where to start," Juma said.
The stranger's advice would lead Juma to Shauri Moyo Baptist Church where he would meet coach Okoth Odhiambo. Though Odhiambo accepted him in his fold, he was coaching children, and not players of Juma's age.
"In a normal setting, children learn from people older than them, but in my case, the children were better than me, they understood the game, they knew how to play and I had to learn from them.
"It was very embarrassing especially when they corrected me but I had to master the courage and boldness because I wanted to go places," Juma said.
After learning the basics, Odhiambo promoted him to the Under-18 team and it was then that he accompanied some of the boys to the YMCA Club.
There, he met players of the men's lower tier side Neosasa who were glad to have him because of his height.
"They accepted me in the club the first time they saw me because I was taller than any of them.
"Having found a side that I could relate to in terms of age, there was no looking back and I kept working hard to improve and become a better player," he added.
He played for Neosasa for one season and in 2015, an off-season basketball camp organised by current University of Nairobi Dynamites at Railways Club opened more doors for him.
"I was looking to gain more skills and improve my game but I got more as Zetech University coach Maurice Obilo was impressed and I was offered a scholarship. I chose to pursue a course in Information Technology."
In the same year, he had played for Thunder for half season but in a quest to better himself he felt Premier League was too big for him and opted to play in the lower tier.
"Thunder opened my eyes and I realised that I still had a long way to go. It was very supportive and national team captain Griffin Ligare has held my hand and walked with me since then."
He played for Zetech in 2016 and 2017 before returning to Thunder in 2018 as a better player who was worthy of earning a national team call up.
"National team helped me improve my game, my first trip was to Rwanda and it was a great learning experience.
"Playing with experienced players for the last two years has made me a better person because Kenya Morans is not just a team but a brotherhood," Juma said.
He adds that along the way, many coaches have helped shape his basketball career and his aim now is to play professionally.
"I had the desire to learn and God sent me assistance just like that stranger who I have never seen again since that day. National team coach Cliff Owuor, Carey Odhiambo, Abel Nson, Sadat Gaya, Obilo and Ligare have played a key role in my growth."
Juma had a chance to feature in last year's Allstars Connect challenge.