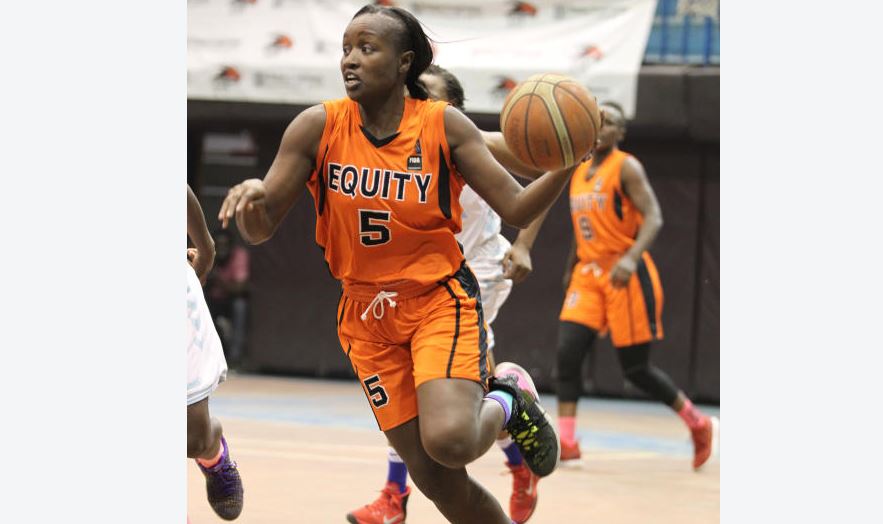 Though football never interested her, Melissa Akinyi is surely dribbling to greatness like her legendary father John Bobby Ogolla.
The Equity Bank Hawks shooting guard is creating her place in Kenya's sporting history just like her father, the former Harambee Stars and Gor Mahia defender.
SEE ALSO: Solskjaer sends warning to Premier League rivals after Bournemouth win
Akinyi, who started off as a sprinter, had a short stint playing tennis before finding her true love in basketball saying she never developed interest in football but was inspired by her father's success and always wanted to excel and win trophies.
"Growing up, my father was a star and a household name always considered a football great and legend which until today motivates me to keep working harder so that I can be a better player. I never developed interest in football, however, I draw inspiration from his achievements," Akinyi said.
SEE ALSO: Ghanaian footballer dead at 24 after drowning in 'most deadly body of water'
She may not be shining on the football pitch but she is without doubt a chip off the old block emulating the six million dollar man (as his father was fondly referred to) albeit on the basketball court.
Last season, she was instrumental in Equity Bank Hawks' successful Kenya Basketball Federation (KBF) women's Premier League title defence.
SEE ALSO: Lionel Messi calls off negotiations on Barcelona contract renewal
She traces her journey back to reigning national secondary schools basketball champions Buruburu Girls where she began playing after joining Form One in 2007.
She, nonetheless, did not start out as a basketball player but continued to follow her dream of becoming a runner.
"I loved short distance races; I competed in primary school and was eager to become a successful sprinter after school.
"My dream was to compete at high profile events like the Olympics and World championships," she said.
One afternoon, while doing her usual run around the school in preparation for Term Two games, the then Buruburu captain Gloria Manywanda invited her to have a feel of what the game of basketball was all about.
"She (Manywanda) saw me run and asked me to join the team. I accepted even though I was training so I could make the athletics team. That afternoon marked the beginning of a journey that shaped me into what I'm today," Akinyi said.
A warm reception from school coach Julius Otieno and the team saw her learn basic basketball skills very fast.
"I learned very fast and I think it is because I loved the game from day one. Sports ran in my blood which made it easy for me to catch up with my teammates and later became a regular in the team."
For four years, Akinyi played for Buruburu Girls even though her school never won a national title.
After high school, she joined Strathmore University Swords in 2011 where she played for three and a half years.
"Strathmore gave me a whole new experience because I was fresh from school, but I gave my best hence winning the confidence of the Co-operative Bank technical bench who gave me a chance in 2014."
Akinyi gave a good account of herself with the bankers in the KBF league for six months before grabbing a scholarship opportunity offered to her by United States International University of Africa (USIU-A) in 2015.
"I was given a chance to study and play for USIU-A and I decided to make the best out of it. I made sure that I did well in class and also on the pitch."
Her long wait to taste glory ended when she won the 2015 women's Premier League title with USIU-A Flames.
She graduated from USIU-A with a Bachelor of Science in International Business Administration before joining Storms in 2018. She played for Storms for one season and signed for Equity Bank in 2019.
She has also had her fair share of disappointments, having received her first national team call up in 2013 but only managing to secure a place in the final squad five years later.
"I had my first national team call up in 2013 but was dropped, since then I have had several call ups and failed to make it, but I finally made it in 2018 and I have featured for the team and I look forward to representing my country in subsequent events."
Akinyi adds that she might have taken longer to break into the national team because of few assignments.
"From 2018 until last year, we had more national team duties unlike in the past when Kenya rarely participated in international events or even friendly matches. This gave me and other players an opportunity to prove our worth."
Having played for Strathmore, Co-op Bank, USIU-A Flames and Storms, the youngest of Ogolla's children says it is at Equity Hawks that she has met players that bring out the best in her.
"Equity has great ladies who complement my strengths and weaknesses, I learn from them not just about the game but they also teach me invaluable life lessons."
Her father is very proud of her and says she is protecting his sports legacy.
"I'm very proud of her and even though I may not manage to go for all her games, I'm her number one fan. She is the only one playing in my family because I let my children choose what they wanted to be and the first four were not interested in sports," Ogolla said.
Ogolla, who enjoyed success as both player and coach adds that even though he desired his children to love sports and wished his sons would play football, they chose different paths.
"One of my sons was a talented footballer but had passion for art and so I supported him rather than coercing him to play when his heart was elsewhere.
"Akinyi puts a smile on my face because she reminds me that I did not come out of sports empty-handed and with her playing, I hope that one or more of my grandchildren will play football in future," he said.
Akinyi looks up to national team captain Hilda Indasi while Olympic and World champion Suzzane Brigit Bird of the US is her all time favourite and role model.
"Hilda is an accomplished player whose individual awards and success are unmatched. I admire her passion, discipline and work ethic and playing in the same position with her I wish to also be successful and win more trophies individually and with the team."