How Morans' star Wamukota is coping with realities of self quarantine in Kigali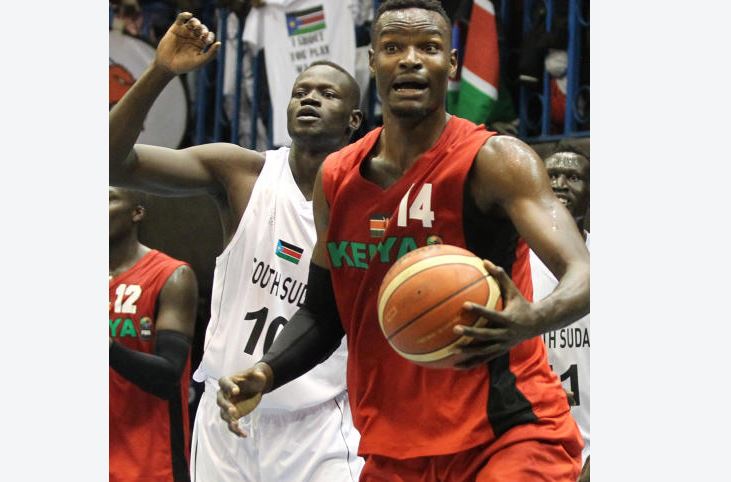 Kenyan international Tom 'Bush' Wamukota says that he has been enjoying life at his new Rwandese club Patriots BBC until the coronavirus broke out.
The Kenya Morans centre, who signed one deal with the Rwandan champions in February after terminating his contract with Tunisian side US Monastir, is struggling to cope with realities of self isolation and social distancing in Kigali.
And he admits that he would have preferred to be quarantined at home than in a foreign country.
But one of the reasons why Wamukota, 27, moved to Kigali was to help the Patriots retain their domestic league title as well as inspire them to a top four finish in the inaugural NBA-backed Basketball Africa League (BAL).
He joined the second-placed Patriots just a few weeks after his compatriot Michael Makiadi, whom he claims influenced his move to the club, had left the team for Ugandan giants City Oilers.
Legendary volleyballer
However, with both the National Basketball League (NBL) and BAL suspended due to the coronavirus pandemic, Wamukota-the son of Webuye West MP Dan Wanyama and legendary volleyballer Nancy Sikobe-will have to wait a little longer to try and achieve his target.
The 2019/2020 NBL season was indefinitely postponed on March 15, while the BAL was originally scheduled to tip off on March 13.
Wamukota had in impressive performance in his Patriots debut, bagging 20 points as the champions beat Espoir 82-67 at Kigali Arena on March 13.
But with the lockdown in Rwanda having been extended to April 19, the Wichita State University and Kilgore College (USA) alumni, is now finding it difficult to deal with the self isolation period.
"Rwanda is a great country to be. I was already enjoying myself here in Kigali until this coronavirus broke out," Wamukota said during a phone interview.
"I have so far played one match here at the Kigali Arena which was a very great experience to me. They are happy for me to be here and everybody is excited about the prospects of the season. My expectations are to win the championship with them, nothing short than that.
Staying at home
"But this quarantine situation has somehow complicated things. The tough part about it is that I'm far away from my family and I'm also not able to do the the things I'm used to. It has really disrupted our basketball activities.
"We are not practising as a team and there is nothing else we can do. We are just staying at home and working out in privacy.
"It's a total lockdown here. We are only permitted to go out for shopping between 7am and 12pm."
He continued: "But I'm in constant touch with my family back home. I always give them the daily updates on how I'm doing and I know they are also safe wherever they are.
"I would definitely have preferred to be at home with my family during this quarantine period because they mean a lot to me. But this comes with the job and there is nothing I can do right now. So, I can't really complain much about that."
Though his father is concerned about the situation in Rwanda, Wamukota says there is nothing he can do right now.
"My dad is definitely concerned with the situation, but there is nothing he can do. The only thing he keeps on telling me is to stay indoors and keep safe. He wants me to return home safely. Right now, we are just doing individual training at home," Wamukota said.
Wamukota further explained why he left Tunisian side U.S Monistar and the reason why he always signs short term deals.
"I left Monistar because they had breached my contract. It had become a norm for them to delay paying salaries. You had to fight with them every month for you to be paid your salary. But my agent settled the whole matter and I hope to be given my dues soon," he revealed.
"I like signing a one-year deals because I keep getting better over time. So, I don't want to tie myself down to a contract that I will be paid less than what I deserve. I have been getting better over the years and that's why I have always wanted to maximize my opportunity. If I get a good deal, then I will sign a multiple contract, but for now it's a one year deal.
"I'm optimistic of getting a better deal at the end of this BAL tournament. This is a good opportunity to be scouted and get good deals more so in Europe and America."
But Wamukota was also quick to reveal how Kenyan forward Michael Makiadi and coach Ben Oluoch Oludhe influenced his decision to join the Patriots.
Oludhe replaced another Kenyan, Carey Odhiambo, who left the Rwanda side barely two months after joining them in December last year.
"I talked to Makiadi and he told me Patriots is a good team," Wamukota said.