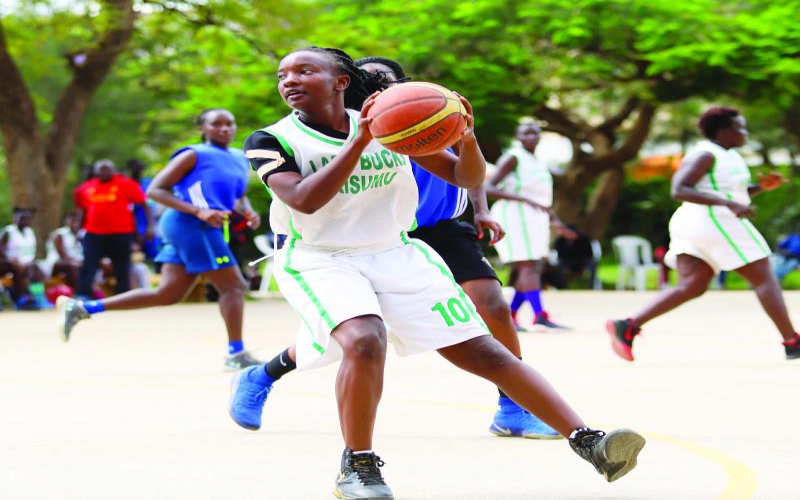 With a dream of being a coach in future, Carol is already sharpening her coaching skills at Yala Basketball Academy in Siaya County.
Carol Akinyi has one goal that keeps running through her mind every time she suits up for the basketball side, Lady Bucks Kisumu.
To her nothing will make her happier than seeking to be the best player on the court, helping her team win, making her family proud and leaving a legacy.
Akinyi is also easy to spot on the basketball court – not only for his athleticism, ball-handling skills or even the intimidating presence, but for her enviable mien.
The player, who is as a point guard for the newly promoted side Lady Bucks Kisumu, played a vital role in the side's successful journey from Division One to the Kenya Basketball Federation (KBF) Women's Premier League.
She has accomplished a lot in just two seasons with the Bucks averaging 22 points per game last year.
This helped the Kisumu-based club make a return to the top-flight basketball after their relegation in 2016.
Now, the three-point sharp shooting Akinyi wants to improve on her performance in the premier league as she seeks to help her club qualify for the play-offs.
This year's competition was scheduled to start last weekend, but was suspended owing to the coronavirus pandemic.
Born in a family of sportsmen and women (her father was a footballer, her mother played netball, javelin and discus), Akinyi began playing basketball in 2004 at the age of nine.
At the time, she was a Class Four pupil at Ebulako Primary School, near Maseno University.
When she was free, she would sneak into the university and shoot some hoops under the guidance of her elder brother Collins Ochieng, formerly of University of Nairobi (UoN Terrorists).
"My love for basketball started when I was in pre-unit. My dad bought a fridge magnet that had a basketball rim and a tiny basketball," she recalled.
"So, when my mother was cooking, my brother and I used to try and shoot into the tiny rim."
When she joined Form One at Bunyore Girls, her basketball career blossomed greatly.
"In just two months, I was already a potential player for the school team. I was attending the Term One tournaments just to watch how the school team was playing. The team's coach Peter Tsuma used to give me a few minutes in the last quarter to play."
"In the long run, I was named the team captain and led my team to the regional games, where we lost in the final to Kaimosi Girls."
"I'm very grateful to coach Tsuma, who saw some potential in me and gave me the chance to be who I am today. He taught me all the basics as I began my basketball journey," Akinyi said.
Having joined Maseno University in 2013, Akinyi improved greatly in the sport but faced some difficulties that threatened her game.
"My first and second years at the university weren't so serious. I had my ups and downs at that time, but was delighted to have overcome all that. Playing under different coaches also gave me diverse perceptions of the game and life in general."
"This helped me embrace hard work and improve on my interpersonal skills."
In 2013, she joined Barclays Bank Eaglets before transferring to UoN Dynamites the following year in the Nairobi Basketball Association League.
She then joined Riara Queens in 2015 before having a taste of the premier league with Western Delights in 2016.
In the same year, she signed for Lady Bucks in what would be the highlight of her basketball career as she finished second in the league's MVP awards.
She then won the 2019 Division One title and guided Bucks back to the premier league after four years in the cold.
"2019 was my best year. We did well and defeated established clubs like Riara University and Strathmore," she said.
Akinyi says she owes her imperious game to KPA's guard Hilda Indasi.