FIBA AfroBasket qualifiers: Brave Somalia gives Kenyans real scare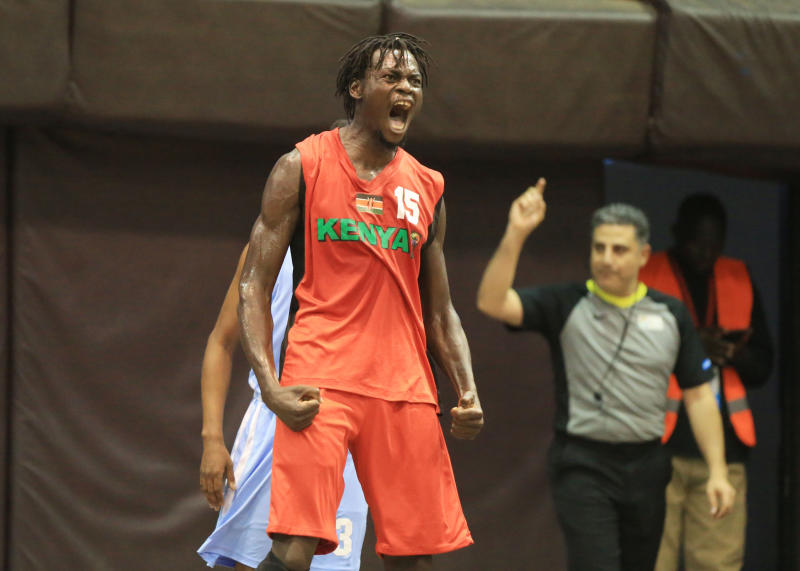 No one saw this coming, at least, not the Kenyans.
A match against the less-fancied Somalia in their third match in the 2021 FIBA AfroBasket qualifiers at Nyayo Gymnasium yesterday evening was supposed to be an easy stroll for the national basketball team, the Morans, but no, it wasn't.
The Somalia team was compact. They were fluid in their attacks and suave in their moves. With every offense move, they were sure of converting a basket, at least. And their partisan fans loved it. Even some Kenyan fans couldn't hide their envy.
It was just a marvel to any neutral basketball fan. After leading for most of the opening minutes, Somalia forced a 40:40 draw with 1:52 left in the second quarter. And when the clock hit halftime, the scoreboard read Kenya 44 Somalia 46.
Meanwhile, South Sudan continued with their brilliant run thrashing Burundi 100-59 to maintain their 100 percent win record.
Teny Puot terrorised the Burundians scoring a towering 33 the highest score by an individual in a match so far.
Mathiang Muo added 16 whereas Giubert Nijimbire matched his score to with Jean Hakizimana scoring 14 for Burundi.
It was a mismatch from the onset as Burundi struggled to keep up with the Sudanese pace. Puot saw his side take a 21-15 lead by the end of the first quarter.
South Sudan exerted their dominance in the second quarter to take an 18-point lead with the score at 47-29 at half-time.
Burundi seemed to have resigned to their fate in the second half allowing allowing their opponents to take the third and fourth quarters 22-17 and 31-13 and enhance their chances of sealing the lone ticket to the next round.
Tanzania bounced back from their loss to Kenya to beat Eritrea 101-69 and chalk their first win of the championship.
Ally Mohammed was on fire sinking 29 points to steer his side past the Eritreans who suffered their third straight loss.
Eric John and Haji Mbegu then ensured the six-bench Tanzania carried the day by scoring 22 and 18 points respectively.
Aron Zekariahs once again sparkled for Eritrea with 14 points while Abiel Zeru and Bilal Abduselam added 12 points each.
Determined not to fall for the second time in a row, Tanzania six laboured twice harder than their opponents despite taking longer to settle in the game.
Eritrea who are featuring in their first ever international competition seemed to have gained more confidence taking a 12-7 lead five minutes into the game.
However, Tanzanians found their footing to take the first quarter 23-19. There was no looking back as they surged on leading the game all the way to the final buzzer.
Tanzania were unstoppable in the second quarter scoring 28 points against Eritrea's 19 to take a 51-38 half time lead.
On resumption, Tanzania remained solid scoring 50 points, 19 more than Eritrea to seal their first win. Today, Kenya will take on Burundi who will be seeking to recover from yesterday's loss to South Sudan.