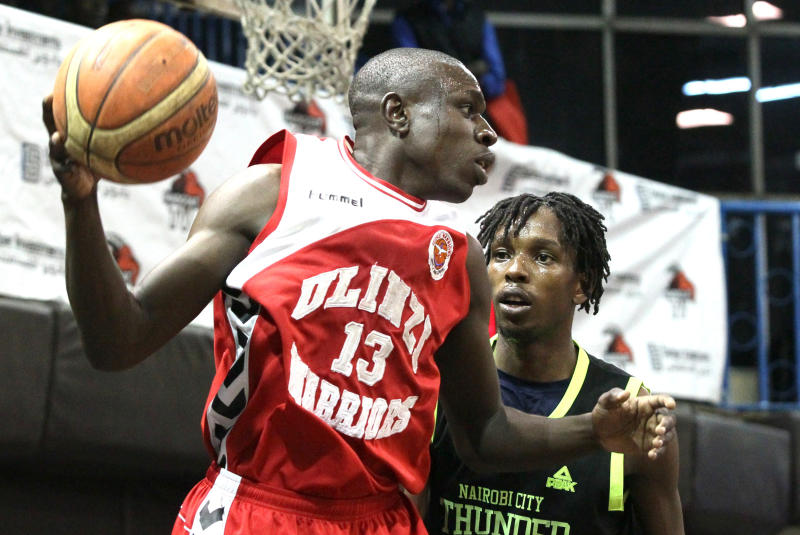 Kevin Chogo once again delivered when it mattered most as he anchored Thunder to a 75-73 win over Ulinzi Warriors in Game One of the Kenya Basketball Federation (KBF) men's Premier League final play-offs on Tuesday night, at Nyayo Gymnasium.
Thunder, who are playing in their first-ever final, shook off a slow start that had seen them trail the former champions by six points at half-time to take the third and fourth quarters for a 1-0 lead in the five-game series.
Chogo anchored Thunder to victory with 22 points while Griffin Ligare and Faheem Juma added 14 and 15 points respectively.
Ulinzi's Eric Mutoro was the undisputable man-of-the-match sinking a towering 32 points. However, unlike Chogo, whose effort was consolidated by Juma and Shem Otieno in the third and fourth periods resulting in victory, Mutoro's effort counted for nothing as his teammates failed to turn up for the job.
Victor Bosire and James Mwangi scored 10 points each while John Washika added nine for the soldiers who will be looking to bounce back and restore parity today when they face off in Game Two.
Ulinzi coach William Balozi said today's clash is a must-win for them because allowing Thunder a two-game advantage will be giving them an upper hand.
"We started well but could not hold on to our lead and our shooting was wanting in the second half. The next game is a must-win because we have to level the score. We can't afford to risk a second straight loss because they (Thunder) will not allow us to recover from it," Balozi said.
He added that even though last season they managed to come from two games down and beat Thunder 3-2 to reach the final, it will be very difficult chalk the same result.
Bosire scored Ulinzi's first three points before Mutoro took charge of the match sinking three consecutive three-pointers for a total of 15 points to his name as Warriors took a 20-17 lead by the end of the first quarter.
Chogo and Ligare ensured Thunder remain within reach of Ulinzi.
Mutoro continued with his superb show in the second quarter alongside Bosire, Washika, Mwangi and William Ochieng who together scored 19 points against Thunder's 16 to give the soldiers a 39-33 advantage at the breather.
On resumption, coach Sadat Gaya's pep talk worked magic as Thunder returned stronger. Chogo was on fire calling the shots with Ulinzi players struggling to restrain him.
He scored 12 points in the third period as his side took it 22-18 to reduce Ulinzi's lead to two points. Juma, Otieno and Benjamin Muga were crucial in the final quarter scoring 20 against Warriors 16 and seal a one basket win.