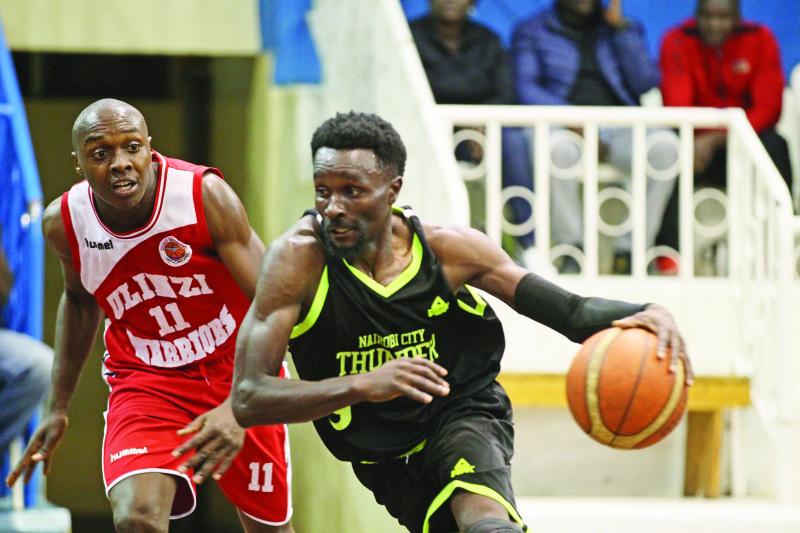 Coach Gaya says reaching their first ever final is a motivation to end the season on a high.
Former Kenya Basketball Federation (KBF) men's Premier League champions Ulinzi Warriors will today take on Thunder in Game One of this season's final play-offs at Nyayo Gymnasium.
SEE ALSO: Revealed: Sports CS Amina Mohamed is a Liverpool fan
The Soldiers will be looking to overcome gritty Thunder and take the lead in the best-of-five series as they look to recapture the title that has eluded them for three years.
Warriors beat last year's champions Kenya Ports Authority (KPA) 3-1 to book a place in the final whereas Thunder dismissed Premier League debutants Emyba by the same margin.
SEE ALSO: Solskjaer casts doubt on De Gea's future
With the dockers out of their way, Ulinzi will be out to ensure they reclaim their lost glory. Last season, they came close to salvaging their crown but fell to KPA 3-0 in the final.
The dockers have troubled Warriors denying them the league gong on numerous occasions.
SEE ALSO: Jadon Sancho off to pre-season camp with Dortmund amid transfer speculation
However, they face an uphill task against Thunder who are the only side to have beaten them in the regular season.
Ulinzi coach William Balozi said they will approach the game with caution because Thunder are strong opponents.
"We are ready for them because we anticipated they will make it to the final. Thunder is a very good side they beat us in regular season and I believe they will come into the game stronger because stakes are high now that we are battling for the trophy," Balozi said.
He added that for them to overcome Thunder, they must be on top of the game in defence and also improve in rebounds.
"They are very brilliant in picking rebounds and it only means that we also have to up our game in both offensive and defensive rebounds," Balozi added.
His Thunder equal Sadat Gaya is determined to win Game One, having come from a game down in both the quarter and semi-final play-offs.
"Game One's victory is very important for us because we don't want to play catch up. We need to win so we can gain the momentum for the next four games. It has taken us years of near misses but now that we are finally in our first final, we want to make the best out of it," Gaya said.
Despite tying 1-1 in regular season after Ulinzi won their second leg clash, Thunder will be looking to avenge last year's losses after Ulinzi locked them out of the final.
The soldiers would come from a 0-2 down to beat Thunder 3-2 to reach the final. Thunder will bank on the services of national team skipper Griffin Ligare, Faheem Juma, Kevin Chogo and Ancet Wafula, who have all been instrumental in their journey to the final.
Ulinzi on the other hand will bank on evergreen Eric Mutoro, Victor Bosire, captain John Washika, James Mwangi and Joseph Khamba.
Meanwhile, Kisumu Lady Bucks were crowned women's Division One winners after they were awarded game three that Riara University had won on Saturday.
Lady Bucks travelled to Nairobi on the back of two victories in Kisumu but would lose 46-45 in Game Three.
However, KBF investigations revealed that Riara who did not honour Game Four, had fielded an ineligible player in game three.