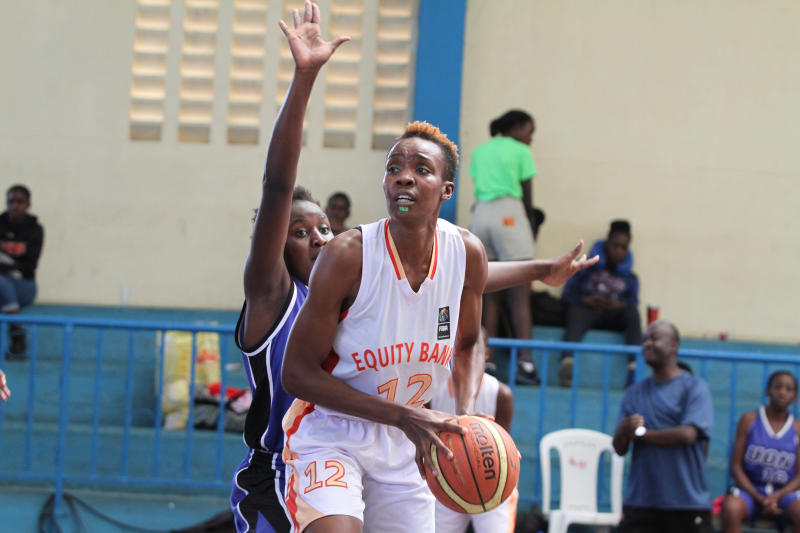 Champions Equity Banks Hawks yesterday thrashed Tangit Sparks 82-47 in game one of the 2019 Kenya Basketball Federation (KBF) women's Premier League quarter-final play-offs at Nyayo Gymnasium.
The victory saw the bankers set one foot in the semis and will be looking to complete the job today.
Belinda Okoth top scored for Hawks with 17 points with Samba Mjomba and Linda Alando adding up 14 and 12 points respectively.
Tangit's Mitchelle Otinda sunk a match high 18 with Celia Okumu scoring 17 but their efforts were not good enough to help them take the lead going into today's tie.
Equity coach David Maina said their aim will be to win their second game and seal their last four slot.
"We played well and we are all looking to finish the job in the next game so we can have some rest and also have adequate time to prepare for the semis.
"We settled in the game well and it gave us an upper hand because, by the end of the first half, our opponents had minimal chances of catching up with us," Maina said.
Justus Akwesa of Tangit blamed their dismal show on lack of team training.
"We did not manage to train together as a team and it had a huge impact on the outcome of the match."
The first quarter was evenly contested as Tangit fought relentlessly to contain the bankers.
Hawks trio of Alando, Okoth and Rita Anyango would see the bankers take a 20-18 lead at the end of the first.
Cynthia Mawero and Hilda Ndegwa were superb in the second quarter taking charge of the game.
On the other hand, all was not well for Tangit as their duo of Okumu and Otinda fizzled out on the rim.
It is in the second quarter that the bankers won the match as they scored 31 points against Tangit's three to take a commanding 51-21 half-time lead.
Equity took the third quarter 17-4 to consolidate their lead. Tangit dominated the final quarter taking it 24-15. [Elizabeth Mburugu]