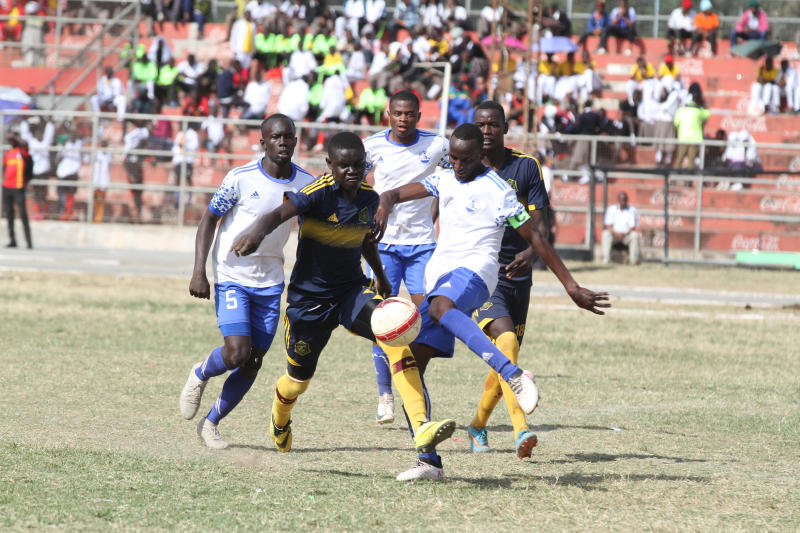 Kenya's hope of reclaiming the East Africa Secondary Schools games boys' basketball crown crash landed yesterday when finalists Dagoretti High fell to Uganda's Buddo as the 2019 showpiece ended here.
Although they were thirsting to end a five-year-old trophy drought, Dagoretti High could not handle the pressure as they lost to 2018 finalists Buddo Secondary School from Uganda in a tense but entertaining final at Arusha Accountancy College basketball courts.
SEE ALSO: Police arrest 12-year-old boy over racist abuse sent to Wilfried Zaha
Despite their fine start, the Kenyan boys could not match the experienced Ugandans as they ran out of gas in the second half losing 58-72.
Dagoretti High captain Churchill Odhiambo sunk a match-high 20 points but his effort was not good enough to help his side win the silverware on their first attempt. Buddo were too strong for Dagoretti had all their units working well for them even as their point guard Peter Cheng, who had the second-highest score in the match at 19, broke through the Kenyan defence.
SEE ALSO: Lady luck smiles on Coast Stima as they get a new shirt sponsor
Odhiambo said inefficiency in shooting as well as poor handling of defensive and offensive rebounds was their major undoing. "We gave the game our best but our shooting was wanting. We were not also spot-on in rebounds.
"They capitalised on our weakness and beat us. Despite this, we are happy we made it to the final because on our first appearance," Odhiambo said.
SEE ALSO: Virus could force Africa to rethink club competition formats
He promised to take the loss positively and improve on their standards to enable them return to the regional games in 2020 just like they did at the nationals this year.
"We were not just competing but learning as well. We will go back home better than we came to this competition. We want to improve on the aspects of the game that were not working and hopefully next year we return and win the trophy."
Buddo settled in the game fast to take a 12-7 lead by the break of the first quarter. But Dagoretti would begin the second period strongly to take it 12-9 even as Buddo enjoyed a narrow 21-19 halftime advantage.
On resumption, the Ugandans were more determined as the pep talk from coach John Omondi paid some dividends. They would outclass the Kenyans to score 17 points against 13 in the third quarter before completing the job 34-26 in the final period to bag the trophy which eluded them last year when they lost to Rwanda's APE Rugunga in finals.
St Noa Girls' Secondary School won the girls' final after beating St Mary's Kitende 73-62 at the same venue. Kenya's Kaya Kiwi Secondary School had on Friday won bronze for Kenya after seeing off Buru Buruburu Girls Secondary 44-43 in play-off.