Basketball: Zetech shine in KBF league ties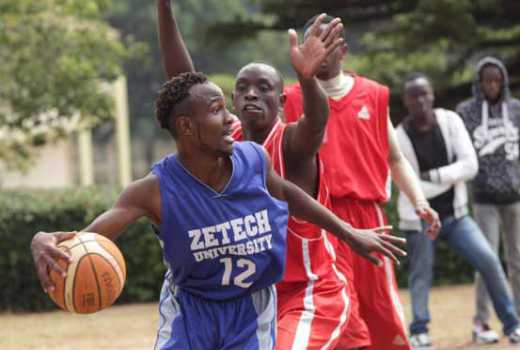 Zetech University men's and women's basketball teams had a successful weekend out as they won their Kenya Basketball Federation (KBF) league matches.
The men's team launched their title quest with a 48-36 win over Terror. Akol Ador was superb, scoring 25 points for his side as they cruised to a dream start.
They crowned the weekend with an emphatic 50-26 win over Lions.
The women's side bounced back from a disappointing start to thrash Eagle Wings 38-19 and register their first victory of the season.
In their opening match, Sparks lost 38-44 to former league champions Equity Hawks.
Zetech coach Job Munene praised his charges for their brilliant show, saying it was a good way to start the season.
"They had the perfect attitude, desire to excel and were determined to win their first game. There was no better way to launch our campaign than complete this good outing," Munene said.
In other weekend encounters, Eagle Wings recovered from their loss to thrash newcomers Footprints 54-17. After trailing the rookies 7-11 in the first quarter, Eagle Wings recovered in good time to win the second quarter 18-6 for a comfortable 25-17 lead at half-time.
Footprints failed to regain their footing in the second half as their defence cracked, allowing their experienced opponents to call the shots.
Meanwhile, Zetech football outfit Titans FC defeated Karuri FC 2-1 in the Football Kenya Federation Aberdare Region league. Joel Khayimba scored the winner in the 89th minute as the Titans came from one goal down to carry the day. [Elizabeth Mburugu]