Equity continue to soar in basketball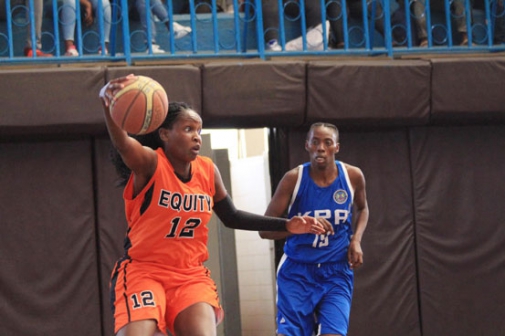 Equity Bank Hawks proved they are in a class of their own when they thrashed Horseed from Somalia 93-43 to win their third match at the Fiba Africa Zone V Clubs Basketball Championships at Lugogo Indoor Arena in Kampala, Uganda.
Equity put Horseed in their place with a whopping 16-5 lead in a one sided first quarter. The second quarter was even more terrible for the Somalians as the bankers intensified their hunt to take their tally to 50-12 at half time.
Fans who thronged the match had high hopes that Horseed would rise in the remaining time but they were disappointed as the Hawks continued to rain terror on the opponents. The win on Tuesday now gives unbeaten Equity a solid six point lead in the women's round robin contest.
The good run has earned Equity new followers despite the side making their debut at the regional contest. Eagle Wings coach, Everlyne Kedogo, wrote on the Federation of Uganda Basketball Associations Facebook page: "Way to go Equity, we got your backs."
Equity won their first match on Sunday by beating Don Bosco of Tanzania 70-48. They carried on with the good run on Monday by beating hosts Kampala Capital City Authority 56-51.
Women's defending champions Kenya Ports Authority (KPA), who lost their opening game 69-68 to hosts Uganda Christian University (UCU), on Monday got their groove back by beating APR of Rwanda 75-51.
The dockers left nothing to chance in the tough match as they opened an eight point lead at half time, when they posted 36-28 in their favour.
APR started the contest in high spirits and this gave them a pie of the first quarter, which they won with half a basket. But all this was turned upside down in the remaining quarters by KPA, who had no room to accommodate another loss in the tournament.
The win gave KPA coach Anthony Ojukwu a lifeline in the championships, including an assurance of successfully defending the title.
"Our loss to UCU on Monday was a great lesson for us. We learned various tactics to approach our remaining matches. This is what we applied against APR and we were successful," Ojukwu said.
But things were not rosy for the KPA men on the third day as they went down 73-60 against Betway Power of Uganda. KPA had led in the first three quarters. The hosts managed to overturn the lead in their favour when it was remaining just one minute and 34 seconds for the game to end.
KPA men won their first match 108-35 against Gondar City of Ethiopia and 81-77 against ABC of Tanzania.