CHAMPIONS RELOADED: Arya beat St Georges to retain Westlands Sub-County crown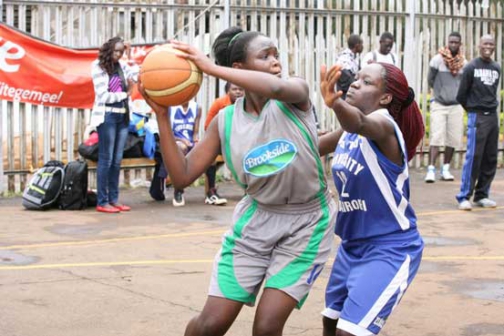 Nairobi County girls secondary schools basketball champions Parklands Arya retained their Westlands Sub-County title yesterday.
They did that with an emphatic 85-10 win over perennial rivals St Georges in Term One Secondary School games finals play at the Arya.
The reigning queens were superb capitalising on home advantage as they dominated the match from the onset.
Mercy Mumo was in a class of her own scoring 26 points with Dorcilla Anyango earning 20 as Arya demolished St Georges whose top scorer Dorcas Nyalando scored two baskets.
Arya coach Godfrey Mwaloma told Feverpitch that his players took the game easy in a quest to preserve their energies for competition at the Sub-Region level.
"Our approach to this game was to just play, enjoy the game and win with an aim of getting ready for competition at the advanced level which will be tougher.
"We knew our opponents very well because we played them at the preliminaries which made our work easier," he said.
Mwaloma was full of praise for St Georges who he said had improved and they only need to work on their attack which is still failing them. "I'm impressed with the level of growth they (St Georges) have shown this year.
Take a quick survey and help us improve our website
Take a survey
"They played very well compared to last year and all they need to do is sharpen their offence and I believe that they will be a force to reckon with in future competitions," Mwaloma said.
Arya announced their intention of victory with a first quarter 21-5 lead over St Georges as the duo of Mumo and Anyango surged forward in hunt of the baskets. St Georges resorted to defensive play in the second quarter restricting Arya to 14 points, but that did not yield much as they only scored a basket to put the score at 35-7 at halftime.
The match was done and dusted in the third quarter as Arya took it 15-3 making it 50-10 which proved unattainable for St Georges with only one session remaining.
St Georges resigned to their fate allowing Arya to score 35 without a reply in the final quarter.
Both Arya and St Georges will represent Westlands in the Western Sub-Region games to be held in a fortnight.
In the third place playoffs State House beat Kenya High 39-26 while Nairobi School saw off Makini 48-21 in the girls and boys contests.