STRONG TEAM TO CAIRO: Foreign based players called to beef up squad ahead of Zone V tournament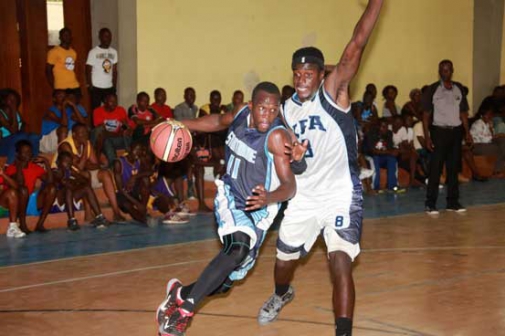 Kenya Basketball Federation(KBF) has called up six foreign-based players to beef up the men and women national teams currently training at Nyayo Stadium Gymnasium for the forthcoming Fiba Africa Zone V Championship slated for Cairo,Egypt on March 12-18.
Among those who have been called up are former KBF Most Valuable Player Arial Okal who is currently plying his trade in Oman after a brief stint in the Ugandan league.
Two Italy based players Tyler Okari and Bush Wamukota and Seychelles based Valentine Nyakinda have also been called to the 27-man squad that will fight it out for a slot to represent Kenya in the Egypt championship which is also a qualifier for the Fiba Africa Championships slated for Brazzaville, Congo in August 19-30.
Locally, four times KBF's MVP Tobias Onyango has also been included in the trials. The last time Onyango, who is also a two time Fiba Africa Zone V Clubs Basketball Championship MVP, played for the national team was in 2008 and since then has been involved with work commitment as an Assistant Manager, Retail Banking with KCB in Kirinyaga County.
Equity Hawk's and current KBF women's MVP Mercy Wanyama is grateful to have earned a call up in the women's squad of 17 members.
"I will do my best to make the final cut, my mission this year is to go beyond my limit in basketball," said an elated Wanyama who was recently in a class of her own as she scored a whooping 36 points to lead Equity to a first ever trophy in the league.
KBF President Paul Otula visited the team at Nyayo Stadium yesterday.
"We are calling upon the corporate and well wishers to come on board to support the team's training at Nyayo and make their travel to Cairo comfortable," said Otula.
Otula was optimistic the government will step in to support the teams.
"If Kenya fails to take part in this event then a heavy fine will be met on the country by Fiba which is a heavier cost than taking part in the championship," Otula said.
Otula said the squads that will be whittled down to teams of 12 players each is very capable of overcoming rivals Egypt, Tanzania, Rwanda, Burundi, Somalia, Uganda, South Sudan who they will tackle in Cairo.
Otula also said the federation has settled on Equity Bank's head coach David Maina as the women's head coach and Carey Odhiambo of Co-op Bank's Spartans as the men's head coach.
He said Joseph Khaemba of Co-op Bank and Hilda Indasi of Equity will captain the men's and women's sides.