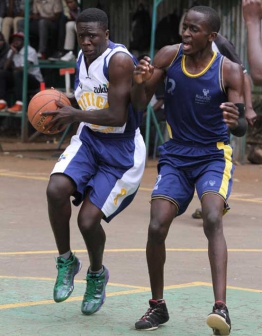 Zetech University both men and women basketball teams will be in action to battle for the crown as the Kenya Basketball Federation (KBF) Division One play-offs jumps off this weekend.
The university men team play Umoja in the first game of the best-of-five series while Zetech University women side takes on Strathmore University at the latter's ground.
The winners of the series will be crowned the 2016 Division One champions. However, all the four teams have been promoted to 2017 Premier League and will be fighting for the top position.
University's men coach Job Munene said in an interview that both teams are determined to win the series and be crowned champions.
"We had a great season and our focus is to win the series and play in the Premier league as Division One champions," added Munene.
However, Munene queried why today's matches have been set for Strathmore University grounds. "Our opponents will have added advantage by the virtue of playing at home thus enjoy home support," said Munene.
Zetech University ladies team coached by Maurice Obilo will be guarding their unbeaten run in the league. Munene is optimistic Zetech teams will excel as they comprise highly talented players. The ladies team has gone 22 matches unbeaten while the men side has won 18 out of the 24 matches played.