Top athletes turn up for fifth AK consultative meeting in Nyahururu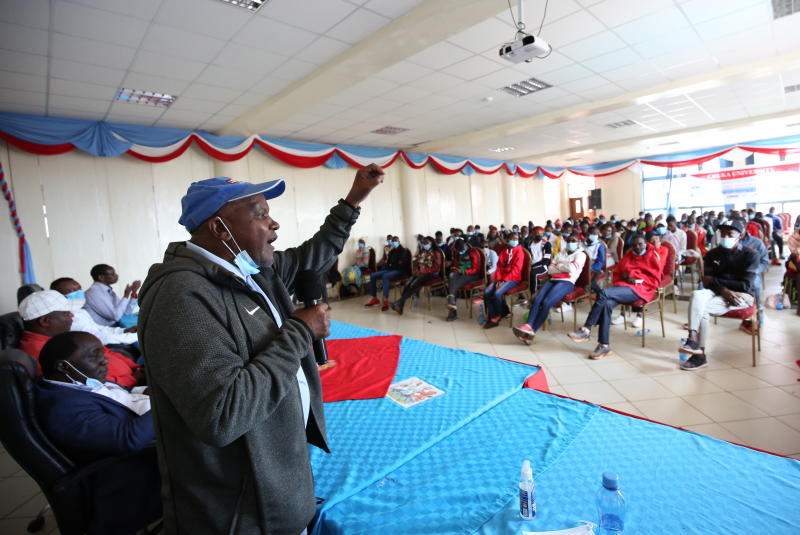 More than 300 athletes from Nyandarua and Laikipa counties yesterday turned up for the fifth Athletics Kenya consultative meeting at DEB Primary School in Nyandarua.
Issues on gender-based violence and talent development stood out as the talking points even the male athletes claimed to have been left out in the campaign.
Collins Kipruto, a world indoor 800m athlete, said most male athletes suffer in silence because of gender based violence issues.
"They have never had a forum to share out their challenges. They have chosen to be silent for fear of stigma in society.
"This often leads to domestic violence, depression, family break ups and can even turn tragic.
"That is an area that requires a lot of engagements with our athletes since this is not a one-off issue. It is something that develops gradually until it finally explodes if not solved early. We need to have this kind of conversation," he said.
Kipruto asked male athletes to come up with their own forums or initiate conversations on this so as to share their woes.
"I am glad here in Nyahururu we have a welfare that basically addresses the issues that affect us. Be it for our sick colleagues or even standing with them in terms of bereavement. Also there are issues that can only be discussed among men, it might seem as a small thing but it goes along way," he added.
The forum was graced by Mary Ngugi, who finished third at the 2021 Boston marathon.
Consultative forum team leader Barnaba Korir said he was impressed by the turn out during the ongoing sessions and insisted that the views of all stakeholders will be taken into consideration.