Tokyo Paralympic Games: Adorable Chela delivers precious bronze medal as Sang's appeal goes through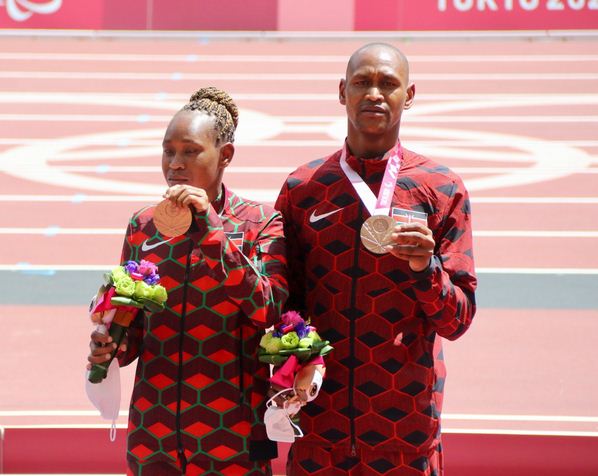 Nancy Chelangat Koech bucked up her promise of a medal with a precious bronze medal in a tough 1500m T11 final that saw Mexican Saavedra Rodriguez set a new World Record at 4:37.40 on Monday morning.
Chela's bronze will taste every bit like a gold medal as a forgettable 2020 Tokyo Paralympic Games unravels in Tokyo.
The athletes with visual impairment set off to a blistering pace in the 1500m T11 final at the Tokyo Olympic Stadium and it told as the race favourite, South Africa's Louzanne Coetzee, failed to eat up ground on Mexico's Rodriguez. Coetzee settled for silver in an Africa Record time of 4:40.96.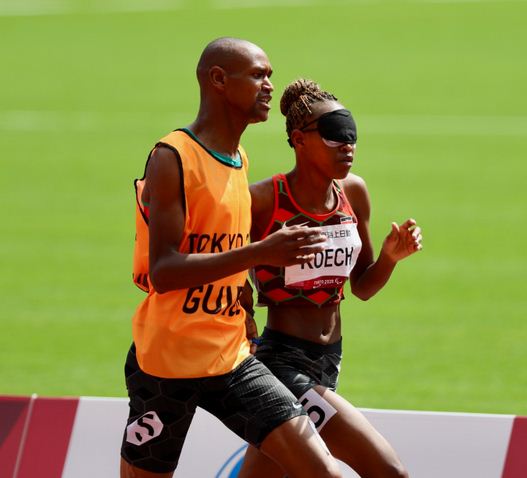 "At some point during the race I felt any medal would do because I was really exhausted," Chela said.
"Glory be to God for this medal and I want to thank my brother (Geoffrey Kiplangat), who really encouraged me when I felt like giving up," Chela said also paying glowing praise for the government for standing by athletes living with a disability.
It is a medal the siblings will savour for many years to come as her brother and guide Geoffrey Kiplangat woke up with a stomachache.
After the race, Kiplangat went straight to the washrooms as Chela sprawled on the floor of the Mixed Zone trying to regain some energy.
"I went to be feeling fine but woke up with a bad stomach," Kiplangat said adding that he hid it from her sister.
"Had I told her how I was feeling, it could have discouraged her," he said.
"I kept talking to Chela and especially at the last lap. I told her 'you can do it and she responded really well," Kiplangat said.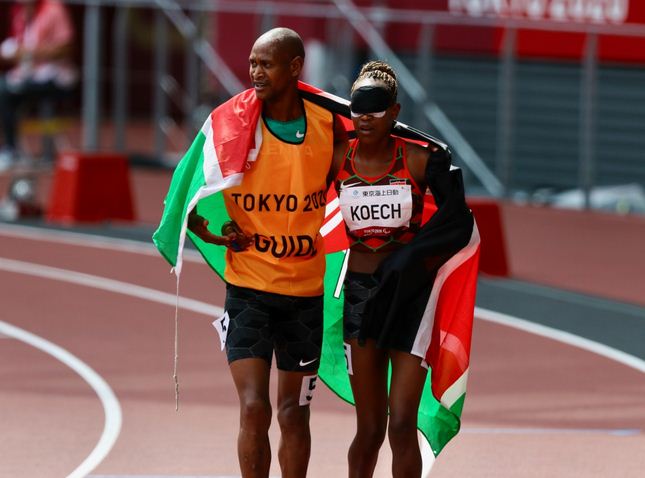 After Chela's bronze, won in 4:45.58, Kenya's last hopes for a gold medal lay in men's 1500m T11.
However, Team Kenya Paralympics' hopes for a final showing in 1500m T11 for men hang in the balance pending an appeal after Eric Sang was sent crashing on the sideboards when his guide Robert Tarus was tripped from behind.
At this point, his compatriot Wilson Bii had been disqualified in Heat 1 for violating Rule WPA 6.15.4B.
Kenya's appeal was successful and Sang will now be in the 1500m T11 Men's final.
Women's 1500m - T11 results
Rank Name Result
1 MEX RODRIGUEZ SAAVEDRA Monica Olivia 4:37.40 WR
Guides: AGUILAR PEREZ Kevin Teodoro
2 RSA COETZEE Louzanne 4:40.96 AR
Guides: BADENHORST Erasmus
3 KEN KOECH Nancy Chelangat 4:45.58
Guides: ROTICH Geoffrey Kiplangat
4 POL MAZUR Joanna 4:48.74
Guides: STAWICKI Michal
5 ESP RODRIGUEZ Susana 4:52.67
Guides: COMESANA PEREIRA Celso
6 CHN HE Shanshan 4:52.72
Guides: HUANG Ziqin