Welcome to Omanyala's world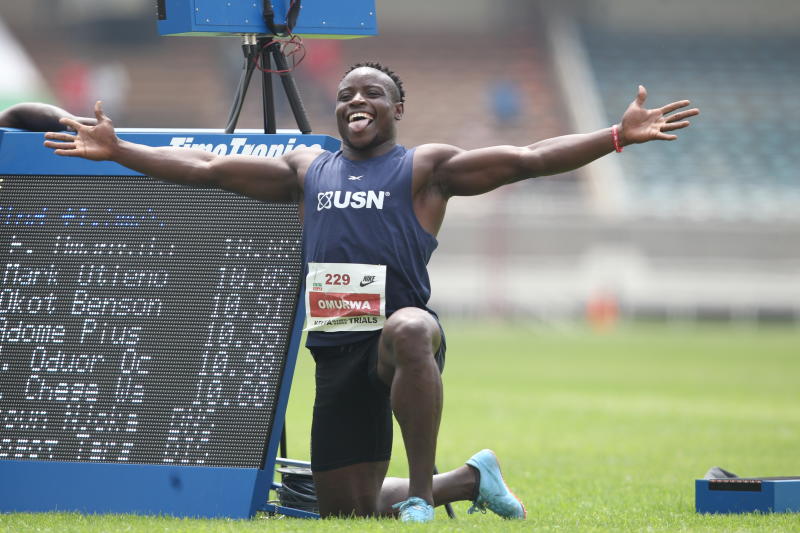 The man who, yesterday became the first Kenyan to compete in 100m semi-finals at the Olympics, was a rugby player.
Ferdinand Omanyala was born in Bungoma in 1996. His rugby talent was discovered and nurtured at Kamusinga High School..
He is the third born in a family of five boys and is a Bachelor of Science in Chemistry student at the College of Biological and Physical Sciences, University of Nairobi.
The father of one has said in previous interviews said he luckily found himself in athletics, more so in 100m, a non-traditional specialty in Kenya, after high school.
He discovered that he was a speedster when he was playing rugby in both high school and at the UoN's Mean Machine. Upon this discovery, he started training in 2015.
The following year, he made his debut in 100m in Mumias during one of Athletics Kenya's weekend meetings.
His love for athletics blossomed as his rugby career faded. "The highlight of 2016 was when I raced in Kipchoge Keino Stadium and I broke the record. I was a newbie and yet I defeated more decorated stars such as Mark Otieno," Omanyala said in an interview earlier this year.
In 2017, he represented the country at the World Relays in the Bahamas where Kenya reached the finals.
He was also named in the World Games Universiade in Taiwan but didn't compete because of a severe back injury.
Omanyala's athletics career would, however, face a devastating blow in August 2017 after he was banned for 14 months after testing positive for a banned substance.
"It was a painful moment because a doctor prescribed painkillers that had steroids after I suffered an injury and I failed to declare it. I even forgot the name of the drug that almost ended my career in athletics," he said.
In 2018, the doping matter was resettled and Omanyala was welcomed back to the athletics family in November that year.
He started off the 2021 season on winning streaks. He lit Nyayo National Stadium as he sprinted 10.1 seconds in January but could not be marked as the national record after the speed was ruled as wind-aided. Omanyala later proceeded to Nigeria for Grand Prix and set the Kenyan national record at 10.01 seconds.
In June, just before the national Olympic trials, he blasted 10.06 seconds In South Africa.
During the Tokyo 2020 Olympics national trials, he clocked 10.02 seconds to easily book a ticket to Japan.
"Don't blame anybody for your failure. You have to put your best foot forward and invest in the sport before the sport starts giving back to you," he said.
In January, Omanyala said he was motivated by Jamaican sprinter Yohan Blake and that he was looking forward to facing off and possibly defeating the Jamaican at the Olympics- a dream that came to pass yesterday.
His mother Shikanga Omurwa says Omanyala started running at impressive speeds as a young boy.
"One time, Omanyala asked me to travel to Eldoret and watch him run. I went and I was proud of his talent," the mother says.
"My son likes eating traditional vegetables and Ugali. When he is in Nairobi, I often send vegetables to him."
Omanyala's father Fred Omurwa says his son has a bright future in athletics and hopes he will win a medal soon.