Invest more resources in sprint races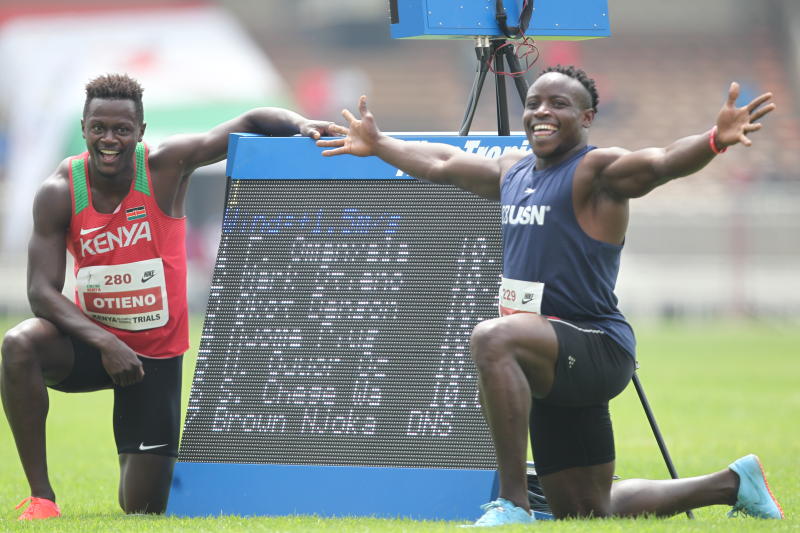 National 100m record holder Ferdinand Omanyala improved his record on Thursday as he blazed to a sizzling 10.02 seconds during the Tokyo Olympics trials at Kasarani.
Although Omanyala had earlier clocked 10.01 during a meet in Nigeria last year, Athletics Kenya (AK) has been hesitant to recognise the record, saying the event was not sanctioned.
However, after Omanyala clocked 10.02 on Thursday to improve on the national record of 10.09 which he had set earlier in May, it shows Kenya has talent not only in middle and long distance races, but they can also stand up to be counted in the sprints.
Omanyala's main rival Mark Otieno finished second after clocking 10.05 which was within the Olympics qualifying time of 10.05 seconds.
Further, the two ran the impressive times at altitude, something always difficult to achieve.
Otieno later admitted that he was running in borrowed spikes which indicates the struggle our sprinters have to endure.
After the good show by the two sprinters, coupled with past good shows like what the late Nicholas Bett did during the 2015 World Championships with a win in 400m hurdles, it means with sound investment we can also get medals in sprints like we did during the 1972 Olympics in Munich.
All parties concerned, led by AK and the National Olympic Committee-Kenya (NOC-K) should lead the way in ensuring that talent is nurtured and developed from the grassroots to the national level.
Let them invest in schools where there are many youngsters who will want to represent the country mainly in sprints, but they get discouraged when they realise their elder brothers and sisters don't get the support needed at the national level.
We have never taken 100m athletes to the Olympic Games before, but with Omanyala and Otieno, earning their right race in Tokyo next month, it shows there is more talent to come.
The duo was only the start and AK and NOC-K should work mainly with education institutions in tapping talent who will later bring glory to the country.
It is too early to even talk about Olympic medals in the sprint races, but with support from the grassroots, Kenya can produce several Usain Bolts sooner than the world would expect. The raw talent is there in abundance. Therefore, pump in more resources and resolve.