Premium
Summer Deaflympics: Behold, Kenya's golden stars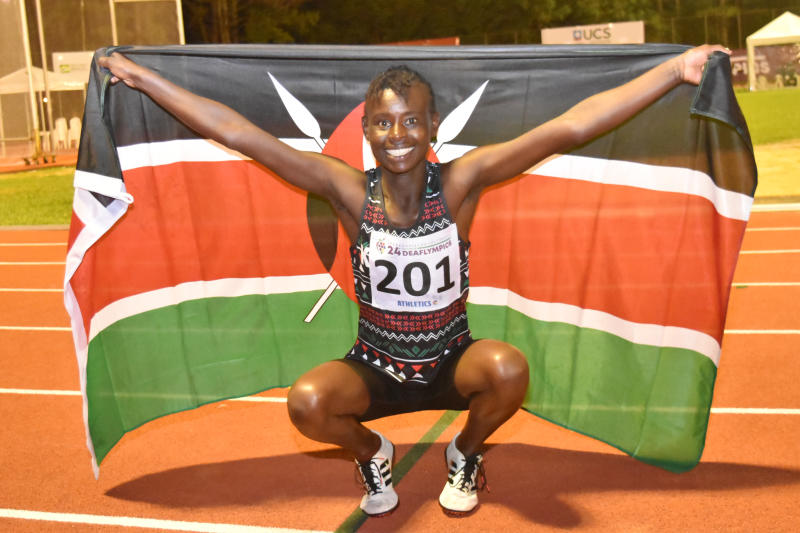 Kenya's splendid performance in the 24th edition of the Summer Deaflympics that concluded in Brazil early this week, is a showpiece many athletes will forever cherish.
Kenya was 11th in the 78-country championships and was Africa's top ranked country, ahead of Algeria, who were second in the continent and 29th overall.
Kenya had 24 medals; five gold, 7 silver and 12 bronze. This performance surpassed that of last edition in Turkey in 2017 (16 medals including 5 gold, 5 silver and 6 bronze).
The performance was also Kenya's best since making its maiden appearance at the championships in Copenhagen, Denmark in 1997.
Of the 24 medals, 22 were from track events, while the other two were from javelin and golf.
Former Kenya Amateur Matchplay champion Isaac Ogolla Makokha won the rare golf medal.
"To me, golf was the real moment for Kenya in the competition. First, the golfers reached Brazil a few hours before tee and secondly, they did not have time to practice on the Caxias Do Sul Golf course," said Team Kenya Local Organising Committee Vice Chairperson Gerry Kweya.
Kelvin Kipkogei might soon be a household name in Kenya, taking after former World and continental javelin champion Julius Yego.
Kipkogei, who won bronze in Javelin, said he used tree branches and timber for his javelin training sessions, before he joined Team Kenya at the camp in Kasarani Stadium.
"When I heard about Deaflympic trials at Nyayo Stadium, I knew nobody could beat me. And here I am, with a bronze medal," said Kipkogei.
"Nobody is happier with this medal than my mum. She called all our neighbours to watch me on Television. The whole village now knows me."
The country did well in relays, especially the women's category, where they won silver in the Mix 4x400, 4x400 and bronze in 4x400m. The men won bronze in 4x400.
Simon Cherono Kibai triumphed to ensure Kenya retained men's 10000m title.
Cherono also struck gold another gold by winning men's 5000m race.
Related Topics