Why Kip Keino Classic is slowly shaping up to be world-class event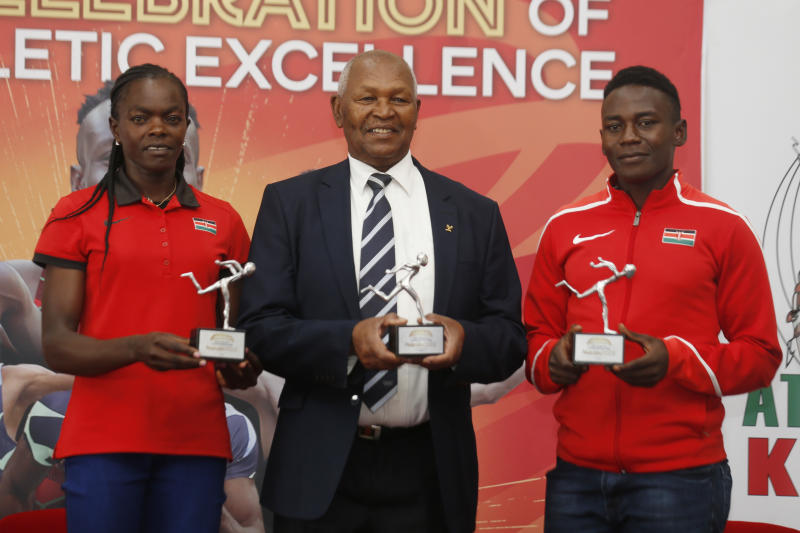 With the confirmation of a number of world-beaters at this year's Kip Keino Classic World Athletics Continental Tour Gold in Nairobi, meet director Barnaba Korir feels the competition is slowly but surely turning into a world-class event.
From 100m Tokyo Olympic champion Marcell Jacobs of Italy, silver medallist Fred Kerley (USA) to 200m Olympic medallist Kenneth Bednarek (USA) and 100m African record holder Ferdinand Omanyala expect an explosive race at Kasarani Stadium on Saturday.
Just like the men's 100m race, Jamaican triple Olympics champion Shelly-Ann Fraser-Pryce, American sprint sensation Sha Carri Richardson and 200m silver medallist Christine Mboma from Namibia are set to light up the third edition of the event in the women's sprints at Kasarani Stadium on Saturday.
World 1,500m champion Timothy Cheruiyot, 800m silver medallist Ferguson Rotich will compete in front of their home fans at the 60,000 seater capacity stadium alongside 800m defending champion Mary Moraa who will renew her new-found rivalry with world champion Halima Nakaayi of Uganda.
Poland's four-time world hammer throw champion Paweł Fajdek, Olympic champion Wojciech Nowicki and silver medallist Eivind Henriksen of Norway will spice up the meeting that will have 21 events; nine Core, eight Discretionary and four National.
And with the return of fans that will have to pay Sh200 each to watch the meeting live, Korir has promised them to expect nothing short of fireworks as they bring a 'mini-Tokyo' to Nairobi.
"Kip Keino Classic has grown big. This is the first time we are having the Olympics and world champions in Kenya like Fraser and Jacobs all coming to Nairobi. It's interesting to see that the event that we were given three years ago has grown to this level," Korir told Standard Sports.
"I want to assume that the combination of athletes who will be here will be the best even than the Diamond League they are going to run. We are literally bringing a 'Tokyo' to Nairobi.
"This is an opportunity for Kenyans to see that this event has grown and we want to continue having it in the future. We were give it for three years only, but AK president has already consulted with the World Athletics to ensure this event continues and maybe even upgraded to Diamond League."
He continued: "In the last two editions, we didn't have a chance to have spectators in the stadium but since the Covid-19 regulations have been eased let our fans expect nothing short of fireworks.
"We encourage Kenyans to turn up in large numbers and cheer our athletes to victory. We are looking forward to having at least 60,000 fans at Kasarani on Saturday. We need to see a way of having the stadium to its maximum capacity just like we had during the World U18 Championships in 2017.
"We intend to use the gate collections to develop sprints and field events. As you know, there's a lot of interest from young athletes due to Omanyala's great performance in 100m. The money will be used to purchase equipment for sprints and field events like starting blocks, hammer throw, javelin and discus. You realize that we are not very strong in those events and it's because of lack of equipment and materials to train."
Korir, who doubles up as Athletics Kenya Nairobi Region Chairman and AK's Director for Youth Development, believes a successful tournament will increase Kenya's chances of winning the rights to host the 2025 World Championships.
"We submitted our bid to World Athletics to host the 2025 World Championships, the inspection team was even here a few days ago. But we need to successfully host Kip Keino Classic to stand a chance of winning the bid," he said.
In regards to the inaugural Nairobi City Marathon dubbed Uhuru Classic that will be held on Sunday, a day after Kip Keino Classic, Korir said: "This is going to be the biggest Marathon in Africa with the highest prize money. It ranks amongst the best marathons in the world like New York, Boston, London, Paris and others. The government guaranteed a prize money of Sh6 million for winners in both men and women's races. It's also going to showcase the newly-built Nairobi Expressway.
"Now other athletes from the world can also come here and compete for the prize money like our athletes have been doing."