Big field parades ready for 2022 women Boston Marathon race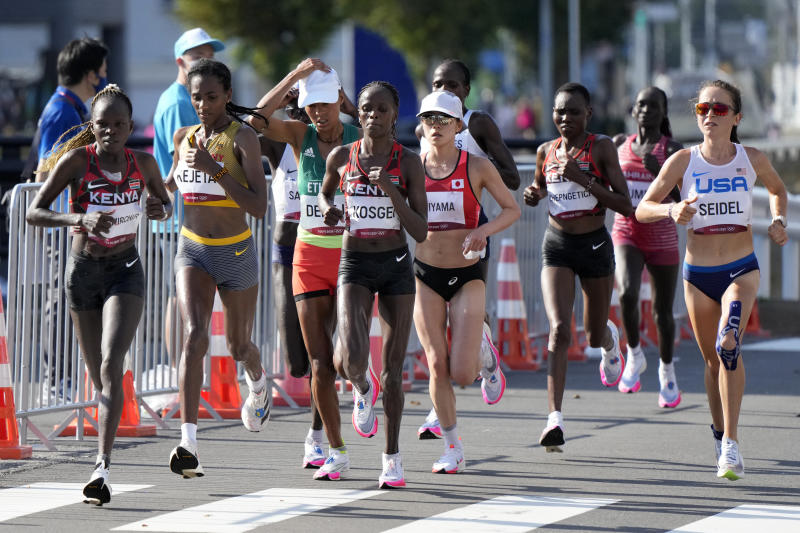 Olympic marathon champion Peres Jepchirchir, bronze medallist Molly Seidel and 2021 London Marathon winner Joyciline Jepkosgei are among top athletes lined up for the 126th Boston Marathon on April 18.
It is nothing short of the greatest lineup of female talent in the race's history – appropriate because 2022 marks 50 years since Boston officially began accepting female entrants.
The race is headlined by a showdown between the two best marathoners in the world; in Olympic and New York City Marathon champion Peres Jepchirchir (2:17:16) and Joyciline Jepkosgei, whose 2:17:43 best mark at 2021 London Marathon was the fastest time in the world.
Boston also secured a third 2:17 woman in Degitu Azimeraw of Ethiopia (second at 2021 London in 2:17:58), Olympic fourth-placed Roza Dereje and five-time major champion Edna Kiplagat.
The squad features a record seven sub-2:20 women and 12 women, who have run under 2:23, with the event – the first Boston Marathon held on Patriots' Day since 2019 – marking the 50th anniversary of the first official women's field, which in 1972 featured eight finishers.
Jepchirchir, who ran her Personal Best of 2:17:16 in Valencia at the end of 2020, will make her Boston Marathon debut less than a year after claiming both the Olympic marathon gold medal in Tokyo and the TCS New York City Marathon title.
She'll square off with Seidel, who became the third US woman in history to claim a medal in the Olympic marathon.
"My high expectation is to be a winner and I would like to arrive at the day of the race in my best shape," said Jepchirchir.
"I have time enough to prepare for it and I will do my best in training to be ready to run against some of the best marathon runners in the world."
Over the past two years, Jepchirchir and Jepkosgei have been the two best female marathoners in the world.
In 2020, they went 1-2 in the Valencia Marathon (Jepchirchir won in 2:17:16, Jepkosgei 2nd in 2:18:40), and last year, they won the two most competitive marathons on the planet; with Jepchirchir taking the Olympic crown (and New York, to boot) and Jepkosgei winning London.
Sixteen months since they last competed together in Valencia, it's time for the two to race again, with the winner of this race earning the title of world's greatest marathoner.
In addition to Jepchirchir and Seidel, this year's field includes Boston Marathon champions Edna Kiplagat (2017) and Des Linden (2018), plus 2021 London and 2019 New York City Marathon winner Jepkosgei and four sub-2:20 Ethiopian contenders in Degitu Azimeraw, Roza Dereje, Zeineba Yimer and Tigist Girma.